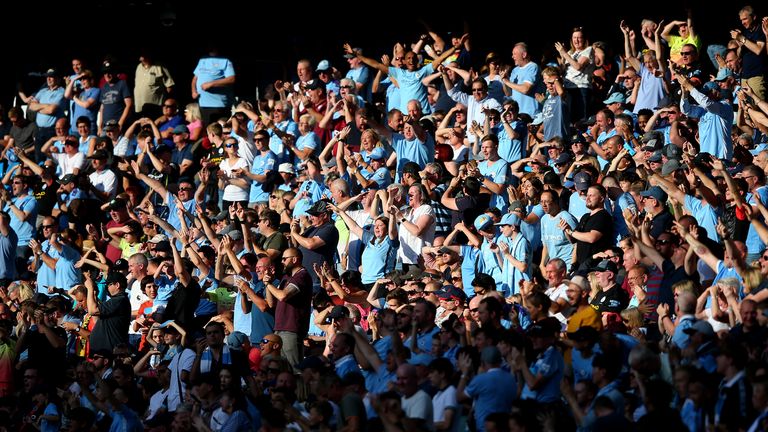 The Premier League has yet to decide whether fans will return to the final game of the season after the government outlines its plans to ease coronavirus lockdown restrictions.
Fans will be returning to sporting events in limited numbers starting May 17, subject to further ratings.
A final decision by the government can still be made on May 10th when it announces the next phase of its roadmap.
The final games of the Premier League season will take place on May 23rd. Sky Sports News has been told that the Premier League will continue to advise clubs on whether fans should return this season.
Matches on the last day of the Premier League:
Prime Minister Boris Johnson confirms fans may be allowed to return to the stadiums before the final games of the Premier League season … 👇
– Sky Sports Premier League (@SkySportsPL) February 22, 2021
Arsenal versus Brighton

Aston Villa versus Chelsea

Fulham versus Newcastle United

Leeds United v West Bromwich Albion

Leicester City versus Tottenham Hotspur

Liverpool versus Crystal Palace

Manchester City versus Everton

Sheffield United versus Burnley

West Ham United versus Southampton

Wolverhampton Wanderers versus Manchester United
Clubs are expected to discuss the issue of athletic integrity and a perceived competitive advantage for the home team.
Image:
Current leaders Manchester City could see their side win the Premier League trophy at Etihad if fans are allowed to return
All 20 clubs traditionally play at the same time on the last day of the season, with athletic integrity being a central element of the day given the final placements and prize money.
The Premier League is not expected to postpone its penultimate round of play on May 15 as it has to comply with the dates for rearranged games caused by previous coronavirus outbreaks and the FA Cup final later this week .
A date for a decision has not yet been set and while the government's roadmap is welcomed, it is believed that the Premier League will remain cautious at this stage when it comes to raising hopes for supporters.
Hopefully fans will be able to return to full capacity stadiums from next season.
"We are very optimistic about the start of next season," Richard Masters, executive director of the Premier League, told Sky Sports News last month. "The vaccination program will have brought this country back to a semblance of normalcy."