Nemanja Matic believes the next few weeks will be crucial for the Premier League title race as Manchester United seek to fill the gap with leaders Manchester City.
After one of five league wins, United returned to second place 3-1 against Newcastle on Sunday, but remained 10 points behind City with 13 remaining games of the season.
Ole Gunnar Solskjaers hosted Real Sociedad in the second leg of the last 32 Europa League games on Thursday before returning to the league with three away games within a week.
3:08



WATCH FOR FREE: Highlights of Manchester United's Premier League win against Newcastle
A trip to Stamford Bridge against Chelsea on Sunday comes first, followed by Crystal Palace next Wednesday and the Manchester Derby on March 7th, all of which can be seen live on Sky Sports.
"Every game is a final now," United midfielder Matic told Sky Sports News.
Sunday, February 28th, 4 p.m.


Start at 4:30 p.m.

"We lost a few points where we should win so you have to go into the big games with more pressure and then win.
"I think the next few weeks will be crucial for the title race. We will either be in the fight or it will be difficult because if we lose a few points in the next few games it will be difficult." Catch Man City.
"But that's why we're here. We're positive, we'll do our best to win. The next game is the most important and then we'll focus on Man City."
Sunday, March 7th, 4:00 p.m.


Start at 4:30 p.m.

"Not easy to play for Chelsea"
Matic will return to familiar territory this weekend when United visits Stamford Bridge. The 32-year-old made 154 appearances for Chelsea before joining Old Trafford in 2017 and insists his former club cannot be taken lightly.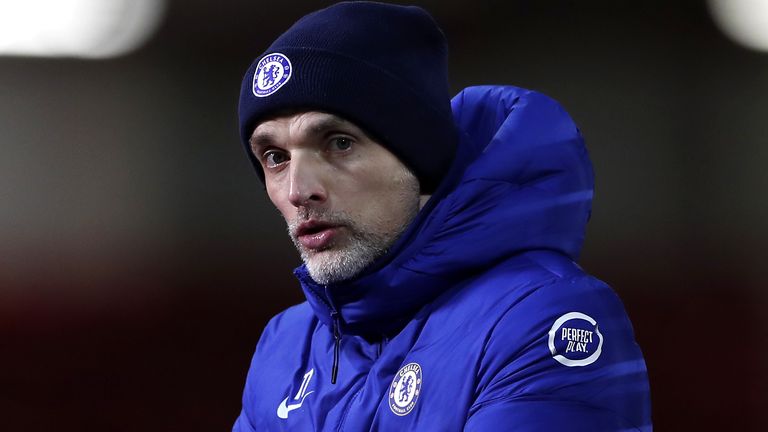 Image:
Thomas Tuchel has been unbeaten in seven games since joining Frank Lampard as head coach of Chelsea
"I think they play good football and they have a good squad," added Matic. "Even with Frank [Lampard] They have played fantastic football in a few games, but they have a young squad and it is normal for the team to have ups and downs at times.
"We respect them a lot. I know the mentality of Chelsea. I know they always want the best and it's not easy to play there with this pressure, especially for young players, so I respect their team.
Wednesday, March 3rd, 8:00 p.m.


Start at 8.15 p.m.

"I watch them when I have the time and they improve and they are going to be very dangerous for the next few years because they have some amazing young players. So it will definitely be a tough game against them."
"We have to do our best and we have to do our best if we are to win this game and the league."