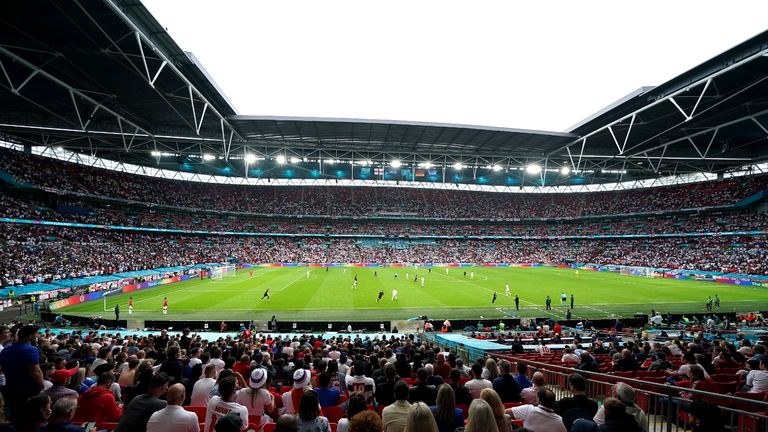 Football clubs could have overcrowded seats from next month, as all social restrictions at venues in England are expected to be lifted on July 19th – so-called "Freedom Day".
Up to 10,000 fans were allowed at outdoor sporting events from May 17, including the last two rounds of the previous Premier League season.
But from August onwards, audience numbers for the new season could return to pre-pandemic levels.
A final decision on the current restrictions will be made by the government on July 12th after reviewing the latest data.
Live COVID updates from the UK and around the world
PM: Almost all COVID rules are supposed to end in England
The likely end of the remaining COVID-19 rules In places like stadiums and festivals, step four of the government's timetable falls under the lockdown.
In addition to the one-meter-plus rule, this also includes restrictions that were previously set for the number of participants at an event.
In addition to lifting capacity restrictions, all remaining businesses, including nightclubs, can reopen.
Also the The legal obligation to wear face coverings is abolishedalthough the guidance suggests that people could do this in "trapped and overcrowded spaces".
And there will be no mandatory use of COVID status certifications – so-called domestic vaccination passports.
According to step three of the roadmap, indoor events allowed up to 1,000 people or 50% of the capacity of a venue, whichever was lower.
And outdoor events allowed up to 4,000 people, or 50% of the capacity of a compound or venue, whichever was lower.
However, the government has also made special provisions for large venues with outdoor seating, where crowds can be safely dispersed around the venue, reaching up to 10,000 people, or 25% of total seating capacity, whichever is lower.
This provision could be used by venues with a seating capacity of 16,000 or more.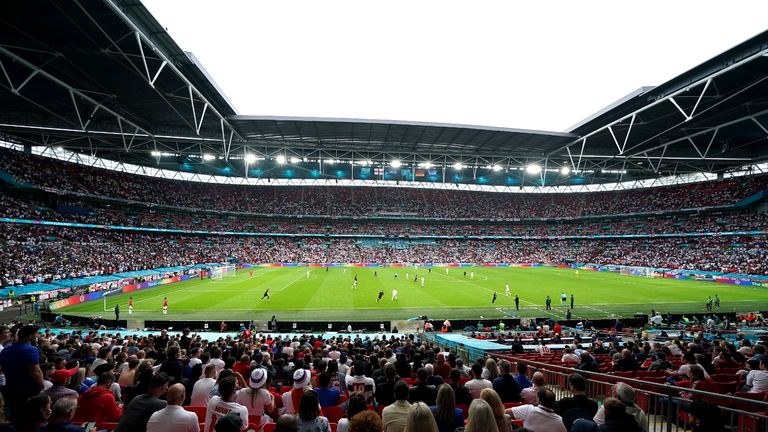 Picture:
Wembley will have more than 60,000 fans in the Euro 2020 semi-finals and finals this week
By lifting the restrictions, officials have confirmed COVID-19 Cases and deaths would continue to rise – albeit at a significantly lower level than before the successful vaccination program – but now a new way to live with the virus must be found.
At a press conference on Downing Street, Boris Johnson admitted that the pandemic was "far from over" and that cases were rising "fairly quickly".
"By the 19th, 50,000 cases a day could be detected," said the prime minister.
"We're seeing increasing hospital admissions and unfortunately have to come to terms with more deaths from COVID."
In this week Wembley will have more than 60,000 fans in the Euro 2020 semi-finals on Tuesday between Italy and Spain and on Wednesday between England and Denmark and the final on Sunday.
This means that the stadium will be 75% full for the games.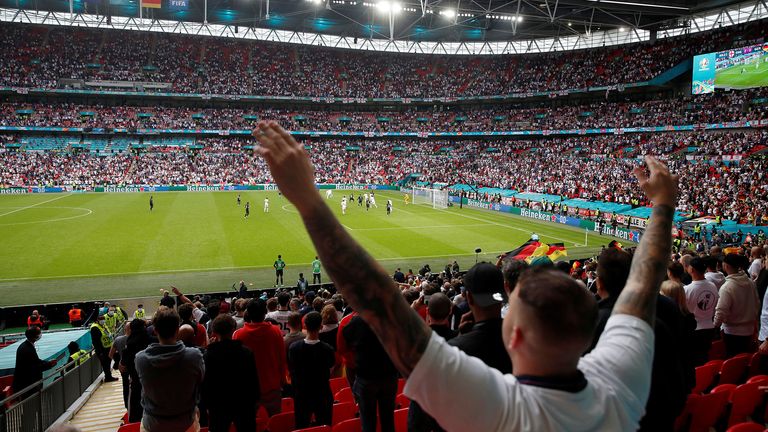 Picture:
There were 45,000 fans at Wembley to see England win over Germany
And from Tuesday Wimbledon's two largest courses will accommodate people of maximum capacity for quarter-finals, semi-finals and finals.
It will be the first major sporting event in the UK to host people at full capacity in nearly 18 months after the pandemic forced restricted social gatherings.
The tennis tournament in south-west London is part of the government's event research program (ERP), with the stalls being allowed to be 50% busy during the first week of the event and fans being able to remove their masks in the stadiums.
As of Tuesday, Center Court will hold nearly 15,000 spectators and Court One will host 12,345 fans when Wimbledon hits its peak.
Capacity in the rest of the All England Club will be reduced as fewer seats will be used over the course of the tournament.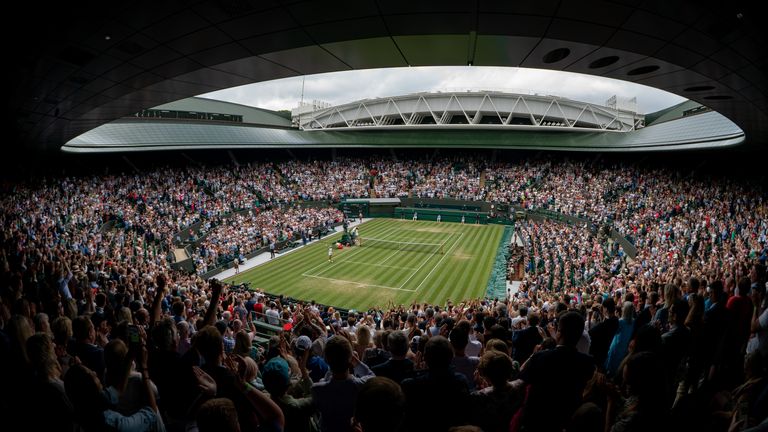 Picture:
Wimbledon's Court One will be fully occupied from Tuesday
In response to Monday's news, the Premier League said in a statement: "The fans have been very much missed, so we welcome today's government announcement and look forward to full stadiums in the 2021-22 season.
"On the way to a government decision on Step 4 of the Roadmap and beyond, we will continue to work with football players and relevant authorities to ensure that the restoration of full capacity is done in a way that ensures the safety of all."
Mark Davyd, Founder and General Manager of the Music Venue Trust, said, "This announcement is extremely important and is an opportunity to revive live music. However, it does not change the central mission or the meaning of the word 'safe'.
"We are revitalizing our efforts to partner with our fantastic network of grassroots music events to ensure that what each of them delivers to the public starting July 19th meets the highest standards of COVID safety within the new guidelines."