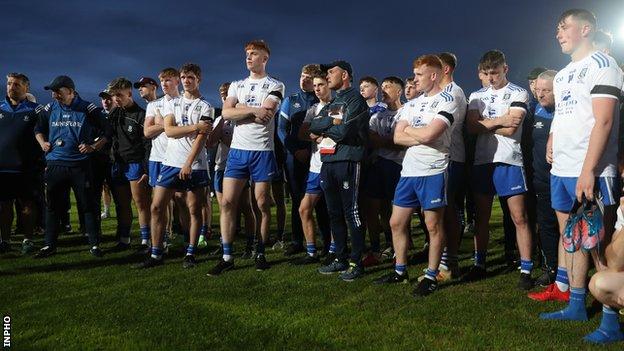 The Monaghan U20s played their first game since captain Brendan Og Duffy died in a traffic accident
Down took the Ulster Under-20 Football title by beating Monaghan 3-15 to 1-14 after extra time at the Athletic Grounds.
The game was the Monaghan team's first game since the death of their captain Brendan Og Duffy in a traffic accident.
Ruairi O'Hare's early goal helped lead, but Darragh McElearney scored when Monaghan led 1-9 to 1-7 at halftime.
Andrew Gilmore's goal got Down on point and while Monaghan forced overtime, Justin Clarke's goal sealed Down's victory.
Duffy's number six jersey was discontinued for the competition and his teammates showed a brave performance that ultimately fell short.
After early Monaghan points from McElearney and Ronan Byrne, O'Hare took the lead and while two Sean Jones results helped the Farney boys fight back, the Morne men led 1-4 to 0-5 at the water break .
However, McElearney's goal got Monaghan to find his way around before two more Jones free spins left them on break for two.
Substitute Gilmore goal put Down back in the lead in the 48th minute, but goals from Kyle Connolly and Jones pushed Monaghan into overtime.
However, Down were the stronger side in overtime as goalkeeper Charlie Smyth's second successful free kick resulted in third move taking the lead.
As Monaghan chased the goal they needed, it left gaps in the break and substitute Clarke's late goal sealed the triumph of Down for her management team of boss Conor Laverty, Martin Clarke and Sean Boylan.