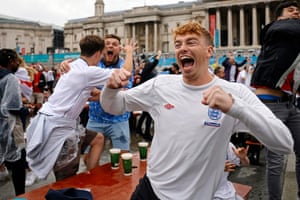 7.35pm BST19:35
Gareth Southgate speaks …
"I just thought it was a brilliant afternoon," says England's manager in a chat with the Beeb. "We talked about bringing enjoyment to the nation and afternoon's like that are what it's all about. The players were absolutely immense right through the team. The fans were as well – only 40,000 but it was as good an atmosphere as I can remember in Wembley. We played exteremely well, I think we deserved the win but I've had to say to them straight away "Look, I'm the party pooper, because if we don't capitalise on Saturday now then it doesn't count for anything."
On today's line-up: "You know you change the shape, you pick certain personnel in place of others and if it goes wrong you're dead. We had to go about it in the way we believed. We wanted aggressive pressure all over the field and we felt that to match them up was the right way of doing that. We felt that speed in behind Harry would cause them problems. I thought that Bukayo and Raheem really created that jepoardy in behind their backline right from the start. We also defended brilliantly and our goalkeeper was immense. It was a tremendous performance."
7.22pm BST19:22
More from Declan Rice …
"Raheem Sterling is proving so many people wrong, scoring so many goals," he says of the scorer of England's opener. "Harry Kane is made for the big occasion and scored the goal that put the game to bed.
"We don't want to get too ahead of ourselves but it a massive game in Rome on Saturday. For today, the occasion, the fans, the players that were up for it. The dressing room, I have not been a part of a team with this togetherness. We really believe, with the tournament being at Wembley."
7.20pm BST19:20
Harry Maguire speaks …
"It's a magnificent moment for myself, the team, the fans," he says. "It's been a tough couple of years for everyone in this country so to put smiles back on faces, at home and here in the stadium, is to enjoy a great moment, a feeling. We're not done with it yet, though because we've got another big game on Saturday."
7.17pm BST19:17
Match report: England 2-0 Germany
David Hytner was at Wembley in his role for the Guardian and here's how he saw a monumental victory over Germany unfold.
England beat Germany as Sterling and Kane send them to Euro 2020 last eight
7.15pm BST19:15
Declan Rice speaks …
"It's incredible," he tells the BBC. "If you look at the group stages, a lot of people had written us off: complaints about the performances … not scoring enough goals. You read a load of things but as players you put them to the back of your mind but you want to prove people wrong. I think today wqith a full house, everybody had that fire in their belly to go out there and for one, knock Germany out of the tournament and two, for us to progress to the next round.
"It's history. In the press conferences all week players have been asked about past games with Germany but we've created our own little bit of history today. We've made the most of our opportunity today and it was a pleasure to be out there on the pitch."
7.06pm BST19:06
Raheem Sterling speaks …
"We knew we needed to put a big performance in against a very good German side and I thought we done that today," he tells the BBC. "Scoring for your country is always special and it's definitely a special moment for me.
"I celebrated and for half a second I thought 'Don't let it be offside'. I'm really happy it went in and I'm really happy we got the win." He goes on to pay tribute to an all round great team performance, singling out Declan Rice and Kalvin Phillips (whose name he struggles to remember!) for the manner in which they were "eating up the ground".
7.01pm BST19:01
An email: "I wonder what Jose Mourinho will have to say about Luke Shaw now," asks David Wall, after the former Manchester United manager was heard obsessing about the England full-back earlier this week. Shaw looked a little out of his depth in the first half but was instrumental in both goals.
He provided the inch-perfect cross for Sterling's opener and did the leg work for the second goal too, winning the ball on the halfway line, driving forward through the centre and playing it wide to Grealish, who crossed to Harry Kane.
6.56pm BST18:56
Post-match: England's players are celebrating wildly with each other and the exultant, overjoyed Wembley crowd as they embark on a lap of honour. Gareth Southgate applauds the fans and receives a massive cheer in return. That's a statement win from England whose patience this evening paid great dividends.

England fans cheer looking delirious. Photograph: Tom Jenkins/The Guardian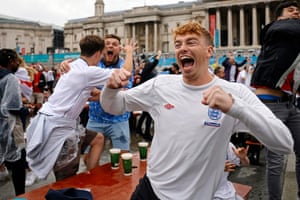 Joy for England supporters around the nation. Photograph: Tolga Akmen/AFP/Getty Images
Updated
at 7.29pm BST
6.53pm BST18:53
Full time at Wembley: England 2-0 Germany
Peep! Peep! Peeeeeeeeeeep! It's all over at Wembley, where England have beaten Germany in a knockout game for the first time since 1966. Raheem Sterling and Harry Kane got the goals that have earned them a quarter-final berth against Ukraine or Sweden in Rome on Saturday night.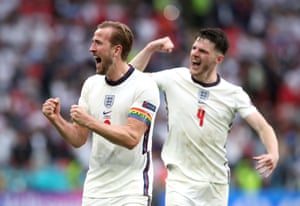 England's Harry Kane (left) and Declan Rice celebrate. Photograph: Nick Potts/PA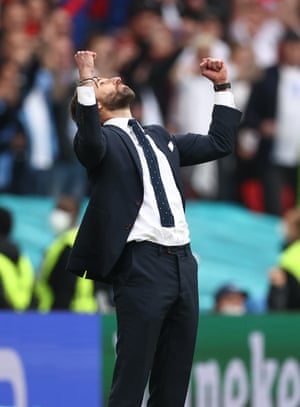 Gareth Southgate looks up to the heavens. Photograph: Richard Pelham/EURO 2020 Newpapers Pool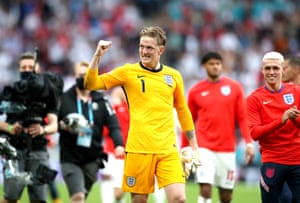 England goalkeeper Jordan Pickford pumps his fist. Photograph: Nick Potts/PA
Updated
at 7.07pm BST
6.51pm BST18:51
90+4 min: Germany are throwing the kitchen sink at England, dropping high balls into their penalty area. England are clearing them all comfortably. It's all over, England have won!
Updated
at 6.52pm BST
6.50pm BST18:50
90+3 min: We're in the penultimate minute of added time and England are set fair to advance to the quarter-finals on the back of their fourth consecutive clean sheet in this tournament.
6.48pm BST18:48
90+1 min: Goretzka drills a low diagonal ball across the face of the England goal. Havertz stretches but can't connect.
6.47pm BST18:47
90 min: A Goretzka shot from the edge of the England penalty area ricochets wide off Kai Havertz, who is unable to move his feet quickly enough to steer the ball goalwards.
6.46pm BST18:46
89 min: The jig looks well and truly up for Germany, whose manager Jogi Low has announced he'll be quitting once their interest in this tournament has ended.
6.45pm BST18:45
88 min: German double-substitution: Leroy Sane and Emre Can on for Robin Gosens and Matthias Ginter.
6.44pm BST18:44
87 min: Shaw advanced from midfield, charging forward and played the ball wide to Grealish on the left. His low cross was headed home by Kane from an almost kneeling position on the edge of the six-yard box.
6.43pm BST18:43
GOAL! England 2-0 Germany (Kane 86)
Harry Kane scores! England's captain converts a cross from Jack Grealish.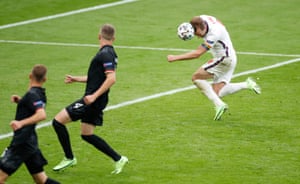 England's Harry Kane scores their second goal. Photograph: John Sibley/Reuters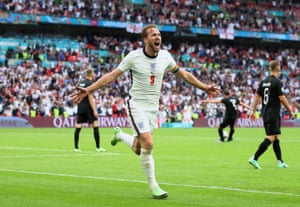 Kane celebrates. Photograph: Catherine Ivill/Getty Images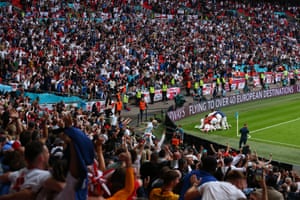 The stadium goes berserk. Photograph: Robbie Jay Barratt – AMA/Getty Images
Updated
at 6.52pm BST
6.41pm BST18:41
83 min: As Muller, who has not had one of his better games, bore down on goal, Raheem Sterling sank to his knees in despair inside the England half. A split-second later, it was the German who was on his knees cursing his luck. You'd have bet the farm on him to score in that situation … and you'd have lost it.
6.39pm BST18:39
81 min: Straight through on goal with two defenders chasing him, Thomas Muller shoots wide from the edge of the penalty area. That's an astonishing miss but hats off to Jordan Pickford for charging off his line and giving the German as little as possible to aim at.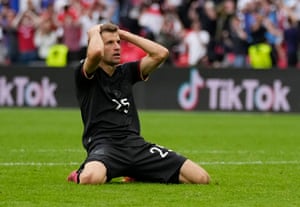 Thomas Muller reacts after his missed chance. Photograph: Frank Augstein/Reuters
Updated
at 6.43pm BST
6.37pm BST18:37
80 min: England's tails are very visibly up after taking the lead. Can they hold on to or even extend it with 10 minutes plus added time left on the clock?
6.35pm BST18:35
78 min: Muller's free-kick is blocked by the England wall and a huge roar goes up around Wembley.
6.35pm BST18:35
78 min: Harry Maguire is booked for a foul on Kimmich right on the edge of the England penalty area, a little right of centre.
6.34pm BST18:34
76 min: Sterling started and finished that move, in which Kane and then Grealish played the ball out wide to Luke Shaw. His low cross was inch-perfect and Sterling slotted home from six yards.
6.33pm BST18:33
GOAL! England 1-0 Germany (Sterling 75)
England lead! Raheem Sterling slots home from a few yards out, converting a low Luke Shaw cross after good build-up play by England.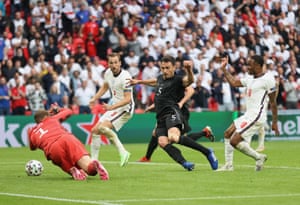 Raheem Sterling of England scores. Photograph: Eddie Keogh – The FA/The FA/Getty Images


Sterling efforts beats Germany's Manuel Neuer. Photograph: Carl Recine/Reuters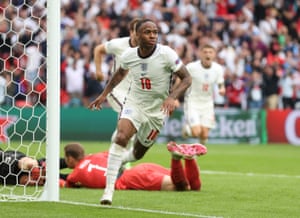 Sterling celebrates. Photograph: Catherine Ivill/Reuters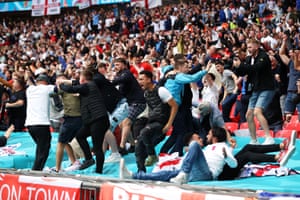 England fans go wild. Photograph: Carl Recine – Pool/Getty Images
Updated
at 6.42pm BST
6.31pm BST18:31
74 min: There's a break in play as Kieran Trippier receives treatment. He seems to have done his groin or hamstring a mischief after taking an air shot at the ball but is apparently fit to continue.
6.30pm BST18:30
73 min: It's very pedestrian from both teams, who have the air about them the air of sides already resigned to extra time. This game is there for the taking, should either side wish to grab it by the scruff. Both of therm seem dominated by fear.
6.28pm BST18:28
71 min: Gosens fouls Trippier with a late tackle and earns himself a yellow card.
6.27pm BST18:27
70 min: Following an excellent first half, Saka struggled to make an impression in gthe first. He goes off to warm applause, while his replacement runs on to an expectant ovation. No pressure, lad.
6.26pm BST18:26
68 min: Germany substitution: Serge Gnabry on for Timo Werner. England substitution: Jack Grealish on for Bukayo Saka.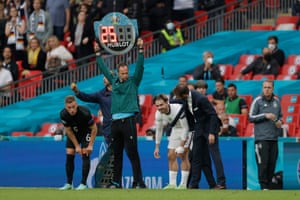 Jack Grealish comes on. Photograph: Tom Jenkins/The Guardian
Updated
at 6.28pm BST
6.23pm BST18:23
66 min: Saka is rather harshly penalised for a foul on Rudiger near the edge of the German penalty area. Free-kick.
6.22pm BST18:22
65 min: Timo Werner pulls the ball acrossd the England penalty area but there's nobody on hand to connect with it. England break upfield with Sterling on the ball. There's absolutely nobody up to support him but he's fouled just inside the German half and wins England a free-kick.
6.21pm BST18:21
64 min: Under no pressure whatsoever, Jordan Pickford pings a clearance straight out of play for a German throw-in. Sloppy.
6.20pm BST18:20
62 min: A speculative cross-shot from Sterling towards Harry Kane is grabbed comfortably by Neuer.
6.18pm BST18:18
61 min: Trippier picks up the ball on the right flank put his poor cross fails to clear the first man in the form of Antonio Rudiger.
6.17pm BST18:17
60 min: Already on a yellow card, Ginter collides with Saka and the England winger goes down holding his knee. He's OK. It was an accidental collision, not a foul.
6.16pm BST18:16
58 min: Germany are dominating as we approach the hour mark but have yet to create a chance of note in this half beyond the Kai Havertz surface to air screamer that was saved by Pickford.
6.14pm BST18:14
56 min: Germany stretch England and attack down the right. Havertz finds Werner in the England penalty area but John Stones doesn't give him an inch. A corner for Germany. England clear.
6.12pm BST18:12
55 min: Kane passes himself fit to continue and play resumes.
6.12pm BST18:12
53 min: Mats Hummels sportingly puts the ball out of play so Harry Kane can receive treatment after taking a knock to his knee as the duo contested a high ball. Dominic Calvert-Lewin, it should be noted, is not in the England matchday squad.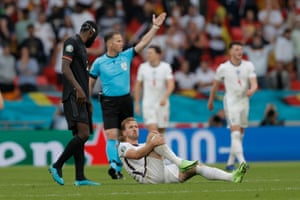 Harry Kane holds his knee. Photograph: Tom Jenkins/The Guardian
Updated
at 6.20pm BST
6.10pm BST18:10
52 min: A rendition of "Football's Coming Home" rings around Wembley stadium, as Germany sidle forward tentatively.They get the ball into the England penalty area, where Pickford jumps higher than Gosens and punches clear.
6.08pm BST18:08
51 min: England throw-in, deep in Germany territory. Kyle Walker hurls it long into the Germany penalty area but it's headed clear.
6.07pm BST18:07
50 min: That was a wonderful shot by Havertz, who showed great technique as he caught the sweet spot of the ball with the outside of his left boot.
6.06pm BST18:06
49 min: From the edge of the England box, Kai Havertz swings his boot at a bouncing ball that was cleared his way. It's a terrific rising drive which Jordan Pickford does well to palm over the bar. Nothing comes of the corner.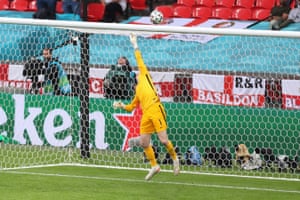 Jordan Pickford goalkeeper of England saves from Kai Havertz of Germany. Photograph: Marc Aspland/EURO 2020 Newpapers Pool
Updated
at 6.11pm BST
6.04pm BST18:04
47 min: Phillips wins the ball from Timo Werner in midfield as the striker tried to lay it off to Kai Havertz.
6.02pm BST18:02
Second half: England 0-0 Germany
46 min: Raheem Sterling gets the ball rolling for England with no changes in personnel on either side so far.
5.53pm BST17:53
Analysis: "That Kane miss at the end of the half is like a parody of Gascoigne not reaching the ball in 1996," writes Kari Tulinius. "He had the goal at his mercy but moved about as fast as a turtle who can't be bothered to eat one more lettuce leaf."
A harsh assessment but a pretty fair one. Kane had just nine touches of the ball in that half and has contributed little or nothing to England's cause. He doesn't look fit and that miss just before the break suggest he's low on confidence too.
England v Germany: their most memorable meetings – in pictures
Updated
at 5.56pm BST
5.50pm BST17:50
Half-time: England 0-0 Germany
Peep! A tense, cagey, tight 45 minutes of football draws to a close. Chances have been at a premium but Timo Werner missed the pick of Germany's, while Harry Kane should have fired England ahead just before half-time. He took a touch too many when through on goal at the edge of the German six-yard box and missed an absolute sitter.
David Squires on … drama and chaos at the business end of Euro 2020
France had every chance to win Euro 2020 but Didier Deschamps blew it
Unai Simón's redemption mirrors Spain's – and now anything is possible | Sid Lowe
'It is not healthy for me' – Frank de Boer leaves Netherlands post
Updated
at 5.51pm BST
5.48pm BST17:48
45+1 min: A dreadful pass by Thomas Muller is intercepted by Sterling, who advances through the centre. He charges forwards and is tackled on the edge of the Germany penalty area. The ball squirts towards Kane, who looks like he can't miss … but Mats Hummels sticks out a leg and relieves him of possession as he tries to take the ball around Neuer. That was close!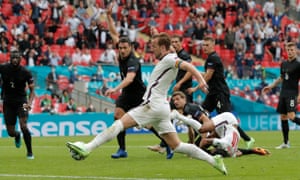 Harry Kane has a chance. Photograph: Tom Jenkins/The Guardian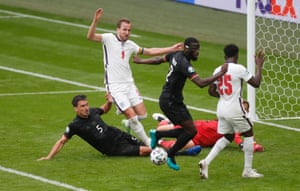 Germany's Mats Hummels tackles Kane and gets the ball clear. Photograph: Matthew Childs/Reuters
Updated
at 5.53pm BST
5.45pm BST17:45
45 min: Kalvin Phillips gets booked for a meaty challenge on Toni Kroos. Both England's holding midfielders are on yellow cards.
5.44pm BST17:44
43 min: Trippier takes a quick one and tries to stand the ball up at the far post for Kane but Mats Hummels is alert to the danger and gets to it first. It's a corner for England, which Hummels clears with another good header.
5.43pm BST17:43
42 min: Goretzka trips Kane and England have a free-kick in a good position about 30 yards from the Germany goal. It's almost in line with the left edge of the Germany penalty area.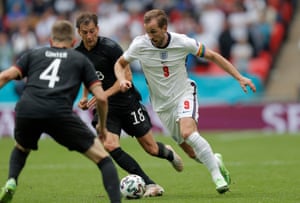 Harry Kane beats Leon Goretzka. Photograph: Tom Jenkins/The Guardian
Updated
at 5.47pm BST