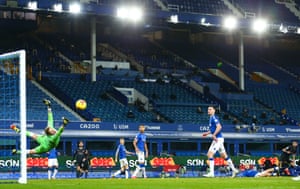 10.44pm GMT22:44
That's your lot. Andy Hunter was at Goodison to witness City stretch their lead at the top of the Premier League to ten points. Here's his report; thanks for reading this one. Stay safe and warm, everyone. Nighty night!
Manchester City go 10 points clear at top after Bernardo Silva seals win at Everton
10.42pm GMT22:42
Carlo Ancelotti's turn. "We started to believe … the game for an hour was really difficult but we were in the game … we worked hard … the second goal was the tipping point of the game and we could not get back … they found a fantastic combination and it was a fantastic shot … there was nothing to say, nothing to do." Did they face the champions-elect tonight? "I think so, it's difficult to say another name … they have fantastic quality, belief, they are strong." Are they the best side they've played this season? "Absolutely, yes, congratulations to them … they are able to play really well with the ball, and work hard without it as well … the regrets were against Fulham, not tonight … the derby is a special game, and away we are on a really good run, so we hope for this!" He adds that Yerry Mina is unlikely to make the Liverpool game.
10.33pm GMT22:33
Pep seems happy enough. "It was a really tough game … not perfect conditions in the winter … so physical … a solid performance, the guys ran like you have to do … we have the quality up front … we needed more patience in the final third … Everton is a team that can make chances, they scored three at Old Trafford, so we did well." And is he thinking about the title now City are ten points ahead? "[cough] Arsenal … is the next game." It'd be nice to think Pep was dropping in an Eric Morecambe reference there.
10.20pm GMT22:20
Managerial verdicts still to come … but Andy Hunter was at Goodison tonight and his report has landed. Here it is!
Manchester City go 10 points clear at top after Bernardo Silva seals win at Everton
10.16pm GMT22:16
The man-of-the-match Riyad Mahrez speaks to Amazon Prime. "It was a good performance … I think we played good all the game … it's a shame to concede the goal in the first half but we didn't concede much to be fair … we made the difference in the second half … we tried to pass and move a lot, to find the right space to score a goal … we [Mahrez and Silva] don't need to scream or speak to each other, we know where each other will be … we train so good, so we don't need to speak … when you keep winning the confidence grows … we are in a very good moment but have to keep going … I don't know about the title, but we have to think about the next game, and the next game is Arsenal so we have to play the same way."
10.12pm GMT22:12
City are all smiles, and who can blame them, another job completed in impressive fashion. The second-half goals scored by Riyad Mahrez and Bernardo Silva were right out of the top drawer, though Jordan Pickford could have done better for Silva's. City's serene procession to the Premier League title continues apace. Everton stay three points behind Liverpool, in seventh place. Their only consolation: City didn't inflict such a big defeat on them as they did on the folk across Stanley Park a couple of weeks ago. It's not much, but ahead of Saturday's Merseyside derby, it's better than nothing.
10.07pm GMT22:07
FULL TIME: Everton 1-3 Manchester City
There's just enough time for Mahrez to go close, threading one towards the bottom left but just wide, and that's it. City are deserving winners, for the 17th time in a row in all competitions. What a run! What a team. They're ten clear of Manchester United and Leicester City at the top.
10.06pm GMT22:06
90 min +3: James nearly takes Cancelo's kneecap clean off with an accidental and thoroughly inept fresh-air swipe. Happily the City player, having taken a sore one, is up again quickly enough.
10.05pm GMT22:05
90 min +2: A long pass down the left. Jesus is denied a rush on goal by Pickford, who comes haring out of his box at full speed to blooter into the stand.
10.03pm GMT22:03
90 min: There will be three minutes of added torture for Everton, who are struggling to get a touch.
10.03pm GMT22:03
89 min: Amazon co-commentator and new national treasure Ally McCoist gives the man-of-the-match award to Riyad Mahrez. No complaints here.
10.00pm GMT22:00
87 min: Foden reaches the byline out on the left and floats a cross into the centre, forcing Digne to head behind for City's umpteenth corner of the evening. Everton clear. The clock ticks on.
9.59pm GMT21:59
85 min: Everton can't get out. Cancelo drifts in from the left, the Everton defence threatening to open up comically for a second or two. Cancelo helps them out by hesitating, allowing Keane and Holgate to frantically shut the door. Cancelo should have either shot earlier, or laid off to set up De Bruyne.
9.56pm GMT21:56
82 min: Keane creams a long pass down the left. It's helped on by Digne, and King nearly gets on the end of it, but Ederson is off his line quickly to claim. Everton come back again, Doucoure trying to sort his feet out just inside the City box, but he's robbed by Foden. Everton have upped the tempo, fully aware they need something very quickly if they're to do another 3-3 number on a team from Manchester.
9.53pm GMT21:53
80 min: De Bruyne's first act is to find Jesus down the left with a threaded diagonal ball. Nothing comes of the move, but some sub to bring on, huh?
9.53pm GMT21:53
79 min: A lovely City move, that, though Pickford should have done much better. And if that wasn't bad enough for Everton, on comes De Bruyne. Sterling makes way.
9.51pm GMT21:51
GOAL! Everton 1-3 Manchester City (Silva 77)
This is another beautiful flowing move. Walker, Mahrez and Jesus combine down the inside-right channel. Jesus slips the ball infield for Silva, gliding imperiously. Silva takes a touch inside, drops the shoulder, and fizzes low and hard into the bottom left. Pickford can't keep it out, pawing it into the net.

Manchester City's Bernardo Silva, right, scores his side's third goal. Photograph: Michael Regan/Pool/AP
Updated
at 9.59pm GMT
9.48pm GMT21:48
75 min: Everton see a little bit more of the ball, but do very little with it. City are totally comfortable right now.
9.44pm GMT21:44
71 min: City play keep-ball for a couple of minutes. Breaking news: they're in-form and making everything look very easy right now.
9.40pm GMT21:40
67 min: Cancelo curls deep from the left. Pickford plucks it from the sky under pressure from Jesus. Everton try to counter, but Coleman is cynically tugged back by Sterling, who goes into the book for his cheek.
9.38pm GMT21:38
65 min: That was an absolute screamer. Nothing Everton could do about that. As things stand, the leaders are going ten points clear at the top.
9.37pm GMT21:37
GOAL! Everton 1-2 Manchester City (Mahrez 63)
So having said that, City score a pearler! Silva wanders into the Everton box down the right. He's faced with two blue shirts, so rolls inside a little for Mahrez, running just behind. Mahrez opens his body and curls an unstoppable screamer towards the top left, pinging off the woodwork and into the net in satisfying style. What a goal!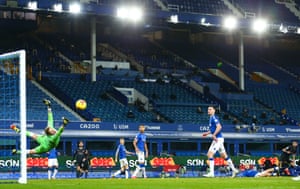 A fine finish from Riyad Mahrez puts Manchester City back in front. Photograph: Robbie Jay Barratt/AMA/Getty Images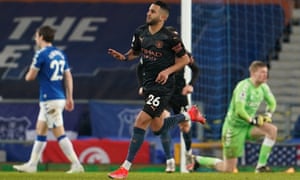 Mahrez celebrates his goal. Photograph: Jon Super/Reuters
Updated
at 9.44pm GMT
9.35pm GMT21:35
61 min: City win yet another corner on the right. Foden delivers a dangerous inswinger, and Rodri climbs highest, but he sends his header harmlessly wide left. City's accuracy has been a bit off this evening. Penny for Aguero's thoughts as he sits on the bench.
9.34pm GMT21:34
60 min: Some neat work between Richarlison, Iwobi and Sigurdsson down the inside right. City are on the back foot. Digne is in acres on the left, and found by Richarlison's clever switch. Digne panics and hits a first-time cross that balloons out for a goal kick. What a waste.
9.32pm GMT21:32
59 min: The first sign that City might be getting a little frustrated, as Rodri hoicks a godawful ball forward and deep into the Park End.
9.30pm GMT21:30
57 min: A stat flashed up on Amazon: Jesus has scored seven goals against Everton, three more than any other side, and he's never failed to find the net here at Goodison. Well, he's had his chances to keep that run going.
9.29pm GMT21:29
55 min: Sterling floats a pinpoint cross, left to right, for Mahrez, who brings the ball down elegantly before rolling it harmlessly towards Pickford from a tight angle. City are soon coming at Everton again, Jesus sent scampering into space down the inside-left by Walker. Jesus aims a screamer towards the top left, but it's too high. Pep's fume suggests the City boss thinks Jesus should have forced a save at the very least.
9.27pm GMT21:27
53 min: Iwobi strides in from the right and finds Sigurdsson on the edge of the box with a forensic pass. Sigurdsson spins and takes a snapshot that's blocked and balloons into Ederson's arms. That was a decent chance, though Laporte closed him down well.
9.24pm GMT21:24
51 min: Cancelo swings one in from the left. Jesus chests down. The ball breaks to Silva, on the right. Silva creams a first-time volley towards the bottom right. It's beaten away brilliantly by Pickford. A fine save.
9.21pm GMT21:21
48 min: Silva earns a corner off Davies down the right. It'll be City's eighth of the evening. Everton haven't had one yet. Pickford punches this one clear.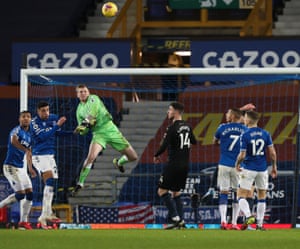 Everton keeper Jordan Pickford punches the ball clear. Photograph: Bradley Ormesher/NMC Pool
Updated
at 10.02pm GMT
9.20pm GMT21:20
47 min: City probe patiently down both flanks. Suddenly Cancelo and Foden combine down the left. For a second it opens up for Cancelo, but he hesitates while an opportunity to curl towards the top right presents itself, and the chance is gone.
9.18pm GMT21:18
Everton get the ball rolling for the second half. No further changes.
9.03pm GMT21:03
HALF TIME: Everton 1-1 Manchester City
A decent half of football, that. City have dominated, but Everton stuck to their guns after falling behind and battled back impressively. The second half promises to be good fun. Don't go anywhere!
9.01pm GMT21:01
45 min: The permanently furious Richarlison is booked for stupidly walloping the ball away in reaction to a garden-variety free kick in midfield.
9.00pm GMT21:00
44 min: It's getting a little feisty, too. Richarlison clatters into Laporte, Foden barges Davies. The second half could be entertaining.
8.59pm GMT20:59
43 min: Everton are pressing with more ferocity now. City aren't quite the dominant force of earlier.
8.57pm GMT20:57
41 min: Everton suddenly look reborn. Digne romps down the left and crosses deep for Doucoure, who doesn't have the opportunity to shoot this time, and can't pull back for a team-mate either.
8.55pm GMT20:55
40 min: City try to reclaim the lead in short order, Foden hitting a volley from an ambitious angle out on the left. It's on target, but an easy enough claim for Pickford.
8.54pm GMT20:54
GOAL! Everton 1-1 Manchester City (Richarlison 38)
A little bit of space for Coleman out on the right. He shovels across towards Digne, haring into the box from the left. Digne sends a first time shot towards the bottom right. The ball clanks off the post, onto the thigh of the loitering Richarlison, and in! A bit of luck at the end, but a lovely move, and City's parsimonious defence has been breached!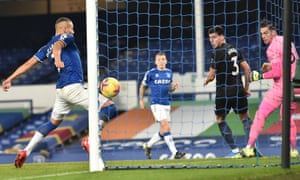 Richarlison's thigh equalises for the home side. Photograph: Peter Powell/AFP/Getty Images
Updated
at 9.01pm GMT
8.52pm GMT20:52
36 min: Everton try to respond, but Doucoure's cross from the right is way too deep. City counter, and Mahrez is this close to dropping a perfect cross onto Foden's head from the right. Just too high, and it skims off the top of his team-mate's noggin and out for a goal kick.