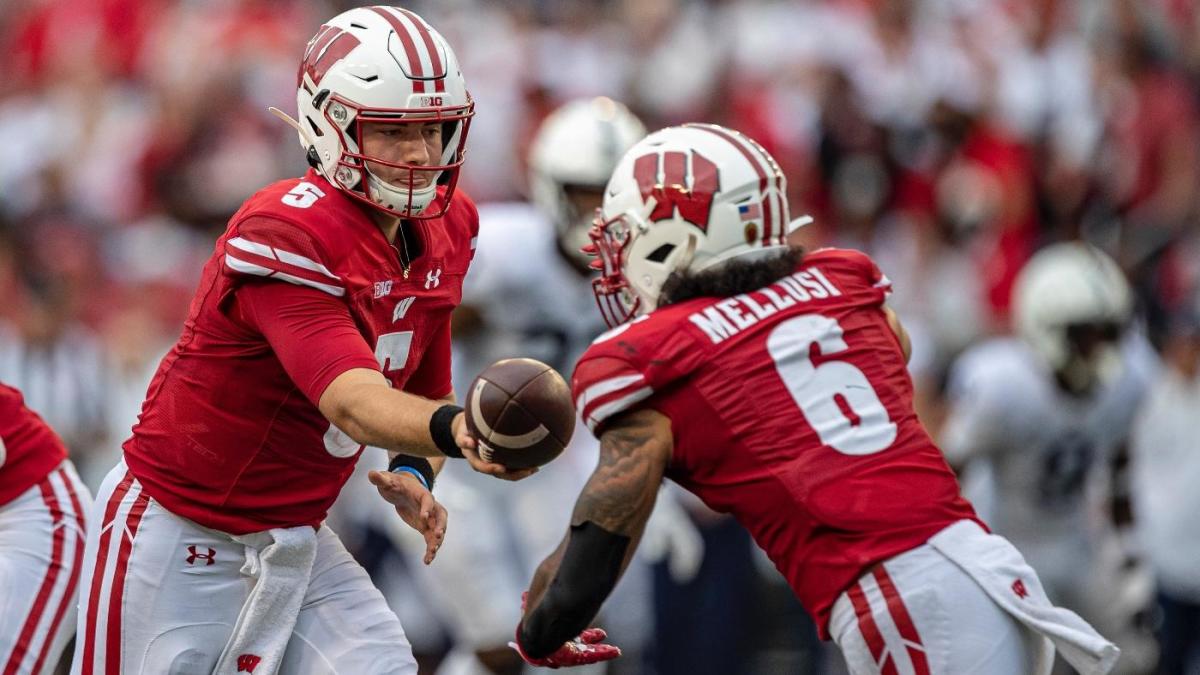 Week 4 of the 2021 college football season features one big game without a conference and one huge division game in neutral locations in two different regions of the country. It also offers crucial rebound opportunities for some of the best teams in the nation and enough intrigue to keep you stuck in front of the TV for 14 hours.
No. 12 Notre Dame and No. 18 Wisconsin will compete against each other at Soldier Field in Chicago in a game that gives a good idea of ​​where these two teams stand in the second month of the season. Down in Arlington, Texas, Arkansas number 16 and Texas A&M number 7 will clash in a matchup that could determine who is the greatest threat to Alabama in the SEC West. Number 3 Oregon will be looking for some style points in a Pac-12 after a dark match with Low Arizona, while UCLA Number 24 will try to save their season against Stanford.
Here's a handy viewer guide to help you navigate through all of Week 4's action.
All times east
The big games
No. 7 Texas A&M vs. No. 16 Arkansas (in Arlington) – 3:30 p.m. on CBS, CBSSports.com, CBS Sports App (free): The Aggies and Razorbacks are both run-based old-school teams who throw haymakers at haymakers until the opponent gives up. Something has to give way, and the team delivering the knockout blow in this case will turn out to be the main threat to Alabama's SEC West throne.
# 12 Notre Dame vs. # 18 Wisconsin (in Chicago) – Noon on Fox, fuboTV (try for free): Neither attack looked dangerous in the first month of the season, but both defenses were down. This will be Notre Dame's first game against a ranked opponent while Wisconsin is battle-tested and should be ready to start in Soldier Field. In addition, Fighting Irish quarterback Jack Coan will take on his former team. That should be extra spicy.
Other great games
Rutgers at No. 19 Michigan – 3:30 p.m. on ABC, fuboTV (try for free): It's very rare for us to include a Rutgers game in the viewer guide based on the Scarlet Knights performance, but here we are. You sit 3-0 against a Wolverines team that also has a 3-0 record and has found an offensive that appears to be one of the most dangerous units in the Big Ten.
No. 24 UCLA in Stanford – 6 p.m. on the Pac-12 Network, fuboTV (test for free): The Bruins fell to the state of Fresno last week but will have to get back on track on Saturday. The cardinal drove past Vanderbilt last weekend and has developed a dangerous offensive following the week 1 fall in the state of Kansas.
West Virginia at No. 4 Oklahoma – 7:30 p.m. on ABC, fuboTV (try for free): The Sooners' offensive wasn't as crisp as many of the sophomore starter Spencer Rattler had predicted. You struggled to get past Nebraska last week, don't seem to have much flow, and face a Wolverines defense that gives up 4.49 yards per game and has just defeated a ranked Virginia tech team.
The best of the rest
Southern Miss at No. 1 Alabama – 7:30 p.m. on SEC Network, fuboTV (try for free)
# 2 Georgia in Vanderbilt – Noon on SEC Network, fuboTV (try for free)
Arizona at No. 3 Oregon – 10:30 p.m. on ESPN, fuboTV (try for free)
Colorado State at No. 5 Iowa – 3:30 p.m. on FS1, fuboTV (try for free)
Villanova at No. 6 Penn State – Lunch on the Big Ten Network, fuboTV (try for free)
# 9 Clemson on NC State – 3:30 p.m. on ESPN, fuboTV (try for free)
Akron at No. 10 Ohio State – 7:30 p.m. on the Big Ten Network, fuboTV (try for free)
Tennessee at No. 11 Florida – 7 p.m. on ESPN, fuboTV (try for free)
# 14 Iowa State at Baylor – 3:30 p.m. on Fox, fuboTV (try for free)
South Florida, No. 15 BYU – 10:15 p.m. on ESPN2, fuboTV (try for free)
UMass at No. 5pm Coastal Carolina – 1pm on ESPN +
Nebraska at No. 20 Michigan State – 7 p.m. on FS1, fuboTV (try for free)
# 21 North Carolina at Georgia Tech – 7:30 p.m. on ACC Network, fuboTV (try for free)
Georgia State at No. 23 Auburn – 4 p.m. on the SEC Network, fuboTV (test for free)
# 25 Kansas State at Oklahoma State – 7 p.m. on Big 12 / ESPN +
Miami (OH) at Army – Noon on CBS Sports Network, CBSSports.com, and the CBS Sports App
Wyoming at UConn – 3:30 p.m. on CBS Sports Network, CBSSports.com, and the CBS Sports app
Indiana at Western Kentucky – 8 p.m. on the CBS Sports Network, CBSSports.com, and the CBS Sports app