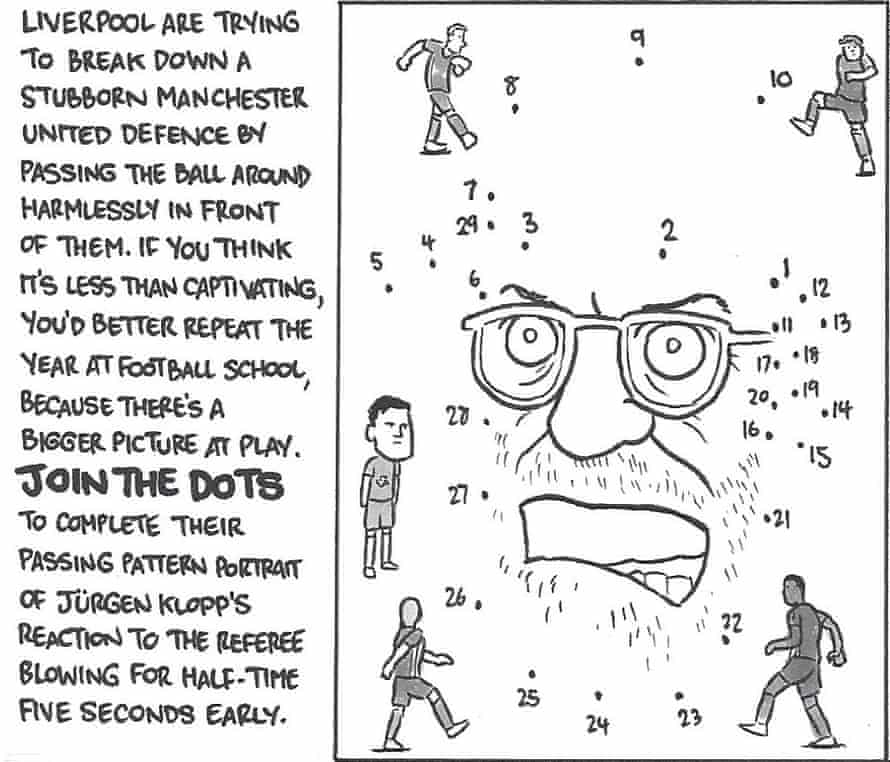 TODAY (AND Yesterday) AT THE PRESS
It always went in this direction, the coronavirus only accelerated the process: The whole world is now nothing more than a long, rolling, never-ending press conference for executives. The fiver is trapped in it, the doors locked, The Man's chairs wedged under the outside handles, just to be sure. There are games every minute of every day, so anyone and anything and anywhere is a nightmare. Although to be honest, Neil Lennon's appearance on The Presser yesterday was quite interesting. The fiery Celtic boss furiously poked the air with both index fingers as he rounded out critics of his club's trip to Dubai. "Agadoo, doo, doo," he shot. "Push pineapple. Shake the tree. Agadoo, doo, doo. Slide pineapple. Grind coffee. "
Even a tech-savvy band like the mighty Black Lace would always struggle to follow such a no-2 smash. Their next 7-inch pop record, Do The Conga, just barely made it into the top 10, and that was pretty much the chart-breaking concern for the band, much to the chagrin of laceheads everywhere. How can any of today's speakers at The Presser be expected to follow Lennon's corusse cover? You really can't, can you? No. This is precisely why two-thirds of today's history was taken up in things that were either said yesterday or published in 1984.
Today's star at The Presser, Ole Gunnar Solskjær, has at least tried to bless him by controversially insisting that there is "no chance" of Bruno Fernandes getting tired. Those who have seen the face of the 53-time Player of the Month winner when he was switched off at Anfield on Sunday and who have the experience of laying down tired toddlers for their naps may deny it. But the Manchester United boss argued that Fernandes was "immense" and that "if I ask him there is absolutely no chance he will say he is tired" and then plunge him into the ground. At this point, he turned the floor over to Pep Guardiola, whose lengthy philosophical observations on the rejuvenation of John Stones disappointed those hoping for a modern reinterpretation of all movements – ski, spray, macho man, sound your horn – to Lace Deep Cut Superman. Maybe tomorrow.
LIVE ON LARGE WEBSITE!
Join Simon Burnton for West Ham 2-0 West Brom at 6pm (GMT) and Scott Murray for Leicester 1-0 Chelsea at 8:15 pm.
QUOTE OF THE DAY
"It was a tough journey, but I've built up a lot of resilience and endurance through my life experience. If I hadn't been through some of these things, I might not have gotten up again if you had been knocked down. "- Manisha Tailor, the only South Asian Indian in the English professional game, talks to Donald McRae about her career and how it helped her traumatized twin brother speak again in this extraordinary interview.
Manisha Tailor is taking a break from a training course at the QPR Academy. Photo: Lucille Flood for The FA
FIVE LETTERS
"I drove from Harwich to Goodison Park and back once on a Saturday to watch Leicester draw 0-0 against Everton. A "friend" got me tickets for a 0-0 draw between Coventry and Middlesborough, which Sky Blues manager "Big Ron" described as the worst game he was ever involved in. Both were spectacularly entertaining, however, compared to the tumultuous boredom of Sunday's Anfield festival (we actually predicted the scoreline in Bits and Bobs last Wednesday – proud Fiver Ed) "- Steve Roberts.
"I share The Fiver's appreciation for the contribution Liverpool and United made to the Stop Football campaign on Sunday, but I think you did not acknowledge Paul Tierney's contribution to the process. Blowing early at halftime when Sadio Mané hit the goal literally stopped the football (at least for 15 minutes) and added tremendously to the boredom of the second half. Fair play for Paul. Everyone has to do their part to make this season the most competitive ever "- Adam U.
"Eden Hazard and Diego Costa only scored six goals last season and four this season. So it can be said that Frank Lampard's Chelsea manager Frank Lampard is a little unfair and that Chelsea strikers have actually reached (if that's the right word) danger and Costa's level this season "- Noble Francis.
Send your letters to the.boss@theguardian.com. And you can tweet The Fiver anytime via @guardian_sport. Today's winner of our invaluable daily prize letter is… Adam U.
RECOMMENDED LOOKING
It's your husband, David Squires on … an interactive soccer lockdown worksheet, including point-to-point Jurgen Klopp and a version that you can print out and color in with the kids (assuming they are adults). You can also buy a copy here.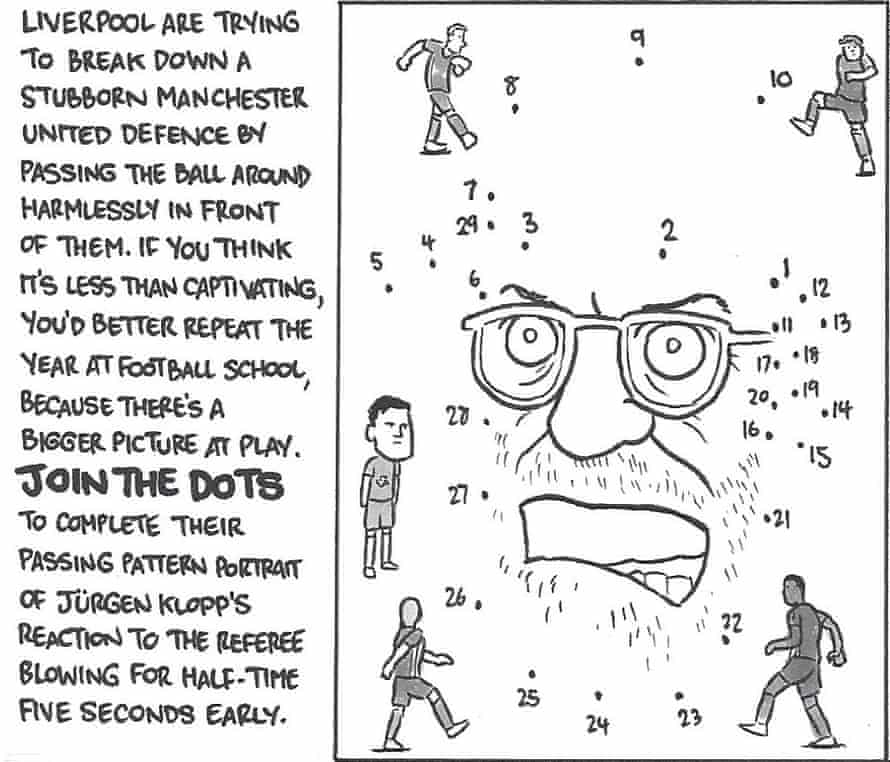 Zing! Illustration: David Squires / The Guardian
NEWS, BITS AND BOBS
England Women have appointed former Norwegian midfielder Hege Riise as temporary manager after Big Phil Neville left to create new 'football DNA' at Inter Miami.
Mo Salah said a few words that, depending on how your bread is buttered, means he'll either stay in Liverpool for a long time or make a pronto. "I say I want to stay here as long as possible, but as I said, it's in the club's hands," he puzzled, making it very difficult to get his name signed on paper.
Meanwhile, David Alaba has turned his nose up on offers from Liverpool and PSG and has agreed to scribble his name during a four-year Real Madrid deal when his Bayern deal expires.
Dean Smith said his Aston Villa players were like excited kids on the "first day on the playground" when they came out of Covid quarantine.
And Barcelona are set to appeal the two-game ban given to Lionel Messi for trying to speed up his rebranding as a brooding rebel with a red card against Athletic Bilbao.
DO YOU WANT MORE?
"Lukewarm and too much arrogance": Suzanne Wrack discusses Phil Neville's time as manager of English women.
The Nessun Dorma Pod squad chew the fat on France 98 and Arsenal's glorious double winners.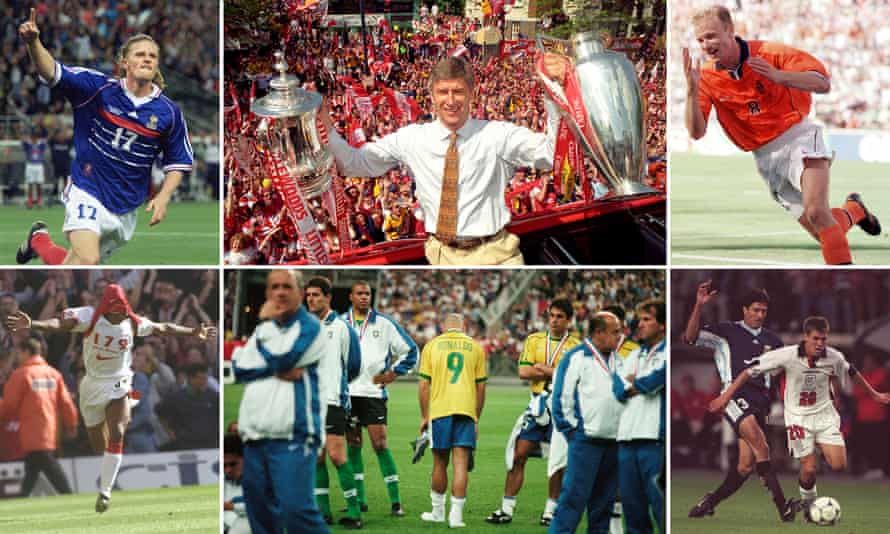 Glowing composite of the day. Composite: Allsport / Getty Images / PA / Rex
Lionel Messi is not the Messiah, he is (not) a very naughty boy. That's the essence of this Jonathan Liew piece on this red card.
Oh, and if it's your thing … you can follow the Big Website on Big Social FaceSpace. And also INSTACHAT!