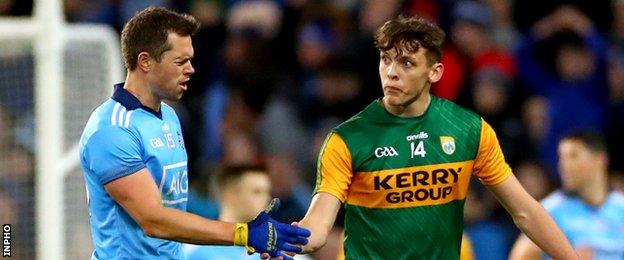 GAA: Peter Canavan and Oisin McConville discuss the Tyrone / Armagh rivalry
Events:
Saturday and Sunday, 22.-23. May
Cover:
Listen on Foyle Digital channels and the BBC Sport website from 4:30 p.m. on Saturday and from 3:30 p.m. on Sunday
After an excruciating five-month hiatus, inter-county football returned last weekend with an opening round that produced a heady mix of ecstasy, agony and controversy to ensure the season got off to a bang.
But there's no rest for the bad guys with yet another jam-packed list of Allianz Football League games full of subplots this weekend.
With the dust settling on the opening weekend, we look to round two of the games as the 2021 season continues.
Monaghan on a must-win trip to Ballybofey
After a devastating defeat in the 2020 season with a loss to Cavan in the Ulster final, Donegal had taken a close look at the run-up to the opener against Tyrone at Healy Park.
Fortunately for Declan Bonner The men of Tir Chonaill quickly kicked the Red Hands Michael Murphy found his reach to add six points to the formidable results of Michael Langan, Patrick McBrearty, Jamie Brennan and Caolan McGonagle in a riveting 0-18-016 win.
Next up for Donegal in Division One North – which Bonner amusingly called a mini-Ulster championship before the Tyrone game – is a home game against Monaghan in Ballybofey.
Losing Donegal would add to Monaghan's fear of relegation
But while Bonner will simply be looking for another display with dead eyes, Monaghan desperately needs two points after falling on Armagh in Enniskillen on Sunday's opener.
The farneymen were at times overwhelmed by a physical Armagh team at Brewster Park, and with relegation already hanging over their heads, Seamus McEnaney's crew must put in a monumental team effort to upset Donegal.
At last year's league meeting, Monaghan cost through indiscipline, captain Ryan Wylie was sent off and goalkeeper Rory Beggan was given a black card. To avenge this reversal, they need all 15 men on the field for the duration and all 15 are working with optimal efficiency.
The Farneyman made two changes from last weekend's loss when Karl McMenamin made his first senior start, replacing Darren Hughes Dessie Ward and Niall Kearns.
Conor McManus, who came on as a half-time substitute with Hughes last weekend, is back on the bench.
Kerry's real test against Dublin
On Saturday there were two major food stalls from Kerry's 4:21 to 0:11 shelling of Galway in Tralee.
The first: little groundbreaking analysis, but the kingdom will be hard to stop if David Clifford continues the same way after turning off the lights with 3-6. His third goal is to set social media on fire after a luscious drag-back and a composed finish that pared down tribal defenses to desperate wrecks on the surface of Austin Stack Park.
Paudie Clifford, David's older brother, also stood out 2-1 on his debut.
The second: While it is difficult to overlook Kerry's attacking bravery, Peter Keane's men will face tougher trials after catching Galway on a day off, starting with Dublin in Thurles on Sunday.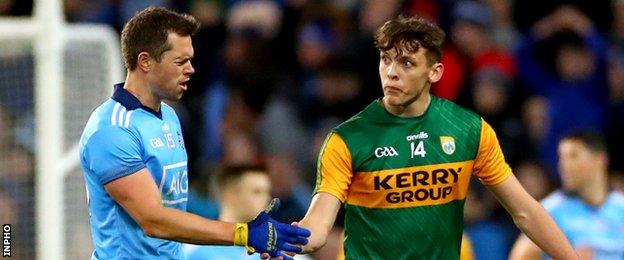 Dean Rock and David Clifford after the Dublin-Kerry tie at Croke Park in January 2020
It will no doubt bring back memories of their two-game epic in the same location in 2001, when Kerry beat the Dubs for the second time after asking to reach the All-Ireland semi-finals after a draw.
Back then, Kerry was a defender of All-Ireland champions and was usually very enthusiastic, but now, 20 years later, they must prove themselves worthy if the kingdom is to continue its quest to assert itself as the leading force in Gaelic football -to-toe with the six-in-a-row All Ireland champion.
Hoping to have Jonny Cooper and Brian Howard to choose from, Dublin was just too strong for Roscommon at the opener, but Sunday's encounter at Semple will certainly give a clearer picture of how she and Kerry are doing ahead of their respective championship campaigns .
The 2020 league meeting between Dublin and Kerry ended with a loot split after an exciting Croke Park dispute between 1 and 19 ended. We hope for more of a match between two of the most electrifying entities in code.
McGeeney's Orchard looks like it was built with a Red Hand scalp
In this week's episode of The GAA Social, Peter Canavan and Oisin McConville were tasked with putting together their ultimate combo Tyrone-Armagh XV from the memorable four-year stretch between 2001 and 2005, when the Ulster rivals met seven times in the championship.
We won't introduce the entire team (Listen to the podcast here to find out for yourself) we can show that both Kieran McGeeney and Brian Dooher made the cut half back and half forward, respectively.
And these two men remain at the forefront of one of the fiercest rivalries in Ulster football as the counties prepare to renew the hostilities on Saturday's playing field.
But while McGeeney oversaw Armagh's successful return to Division 1 against Monaghan, joint managers of Tyrone, Dooher and Feargal Logan hope their reign in the Red Hand begins in earnest after being ousted by Donegal.
Though Tyrone got away from this game empty-handed, there was a promising debut from Dungannon sniper Paul Donaghy, who scored 0-10.
His dazzling introduction to county football was ultimately in vain when Tyrone scored six 12 wides against Donegal's.
Put simply, Tyrone can hardly afford to be so wasteful, especially with Armagh attackers Rian O'Neill and Rory Grugan who drew a combined 9-0 against Monaghan in such good shape.
Another fascinating reunion in the fourth division
Enda McGinley and Mickey Hard reaction
Last week, all eyes were on Dundalk when new Antrim boss Enda McGinley shut the horns with former Tyrone manager Mickey Harte.
After a breathtaking beating of Harte's Louth with three injuries that helped the Saffrons to a single point win, McGinley is now preparing for his second reunion in as many games.
Only this time is it against a former rival in Tony McEntee, the Armagh legend who began his life as Sligo boss with a convincing 2:19 to 0:18 triumph over the 14-man Leitrim.
McGinley and McEntee faced each other several times during the height of the Tyrone-Armagh rivalry, particularly in the 2003 All-Ireland Final when McGinley sustained a serious neck injury following a collision with the Crossmaglen man.
Eighteen years later, they are still trying to outdo each other. Only this time it's Division 4, not the Croke Park showpiece. And there is no mention of Tyrone or Armagh as both men try to continue their promising start in inter-county management.
ALLIANZ FOOTBALL LEAGUE FASTENINGS
Saturday
Donegal

v

Monaghan

Ballybofey – 5:00 PM BST

Armagh

v

Tyrone

Sports fields – 7:00 p.m.
Westmeath

v

Mayo

Mullingar – 3:00 p.m.
Laois

v

cork

Portlaoise – 7:00 p.m.
Derry

v

Fermanagh

Owenbeg – 5:00 p.m.

Cavan

v

Longford

Breffni Park – 7:00 p.m.
Offaly

v

limerick

Tullamore – 3:00 p.m.

Tipperary

v

Wicklow

Thurles – 16:30
Wexford

v

Waterford

Wexford – 3:00 p.m.
Sunday
Dublin

v

Kerry

Thurles – 1:45 pm

Galway

v

Roscommon

Pearse Stadium – 2:00 p.m.
Low

v

Meath

Sports fields – 15:45
Kildare

v

Clare

Newbridge – 2:00 p.m.
Antrim

v

Sligo

Belfast – 4:00 p.m.

Leitrim

v

Louth

Carrick-on-Shannon – 3:00 p.m.