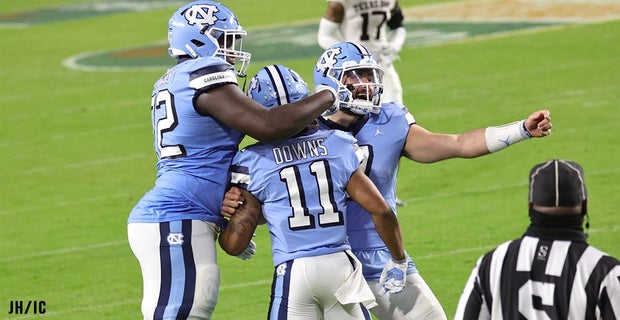 Last week, 147 media representatives submitted their ballots for the All-Atlantic Coast Conference preseason soccer team and their proposed sequence for the ACC. North Carolina was selected to win the Coastal Division and face Clemson in the ACC Championship Game in Charlotte. Sam Howell was named ACC Preseason Player of the Year and was part of the preseason All-ACC team along with Tony Grimes and Joshua Ezeudu.
Inside Carolina created an All-UNC ballot to give readers a chance to make their choices specifically for the tar heels, as did the media members for any ACC team. Readers were asked to select two quarterbacks, two running backs, three wide receivers, three offensive linemen, two tight ends, two inside linebackers, two outside linebackers, two defensive linemen, two cornerbacks and two safeties / nickel backs. The poll ended with a Newbie of the Year and an option to choose the better side of the ball: offense or defense.
The criteria for voting were based on a player's overall talent level, playmaking skills, previous performance, and a player's limit. After 825 submissions, below are the final results, taking votes for each player into account and creating an All-UNC First Team, Second Team, and Third Team.
Each team has one player from each position. Due to the equality of votes, there are two offensive linemen and two defensive linemen in each team.
2021 All-UNC First Team of the preseason
(Total votes in brackets)
QB – Sam Howell (821)
RB – Ty Chandler (775)
WR – Josh Downs (799)
TE – Garrett Walston (801)
OL – Joshua Ezeudu (780)
OL – Jordan Tucker (523)
DL – Raymond Vohasek (524)
DL – Myles Murphy (366)
OLB – Desmond Evans (689)
ILB – Jeremiah Gemmel (664)
CB Tony Grimes (796)
S / NB – Ja'Quurious Conley (749)
As expected, IC readers voted for chalk almost everywhere. All but four voters chose the ACC Preseason Player of the Year (how do you choose others?). It was a surprise that Walston got the second-largest share of the vote at 97.1 percent, but that probably has to do with the small sample size of the narrow ends.
Chandler will most likely be the starter in the first game against Virginia Tech. Downs is the receiver's hot name, which comes from the Orange Bowl (4 catches, 91 yards, 2 TDs) and the spring. Ezeudu was the only other offensive player called up to the preseason All-ACC team.
It's no surprise that Grimes received the most votes among defensive players (96.5 percent). He was the only Tar Heel defender to receive the All-ACC preseason awards. The two surprises were that Murphy was selected as the # 2 lineman and Evans was ahead of Tomon Fox with 78 votes. Evans has a career bag compared to Fox, who has 21 and led the team at seven last season.
Josh Downs & Sam Howell (Photo: Jim Hawkins / Inside Carolina)
Pre-season All-UNC second team
QB – Drake Maye (476)
RB – caleb hood (463)
WR – Khafre Brown (599)
TE – Kamari Morales (575)
OL – Marcus McKethan (443)
OL – Brian Anderson (333)
DL – Jahvaree Ritzie (242)
DL – Tomari Fox (220)
OLB – Tomon Fox (611)
ILB – Eugene Asante (664)
CB – Storm Duck (627)
S / NB – Trey Morrison (487)
There are some interesting results for the second team.
Voters voted first quarterback Maye over second quarterback Criswell; an interesting look at who readers believe will be the quarterback for the 2022 season.
Evans, who gets more votes than Fox, is another fascinating finding for the reasons stated above. Murphy and Ritzie, who together have zero college starts, both get more votes as Tomari Fox shows the depth of the UNC's line of defense.
On the offensive linemen, Tucker squeaked in front of McKethan for the All-UNC First Team honors, 523 to 443. It is evident that readers see the offensive linemen in three tiers: Ezeudu / Tucker, McKethan / Anderson, and then the Boys of the third team listed below.
Khafre Brown vs. Beau Corrales was the closest race in the entire poll, with a difference of eight votes. Brown finished third on the team last season with 337 yards on 15 catches behind Dyami Brown (1,099 yards) and Dazz Newsome (684 yards). Corrales spent much of the 2020 season due to injury. He finished with 238 yards on 13 catches in five games.
Freshman running back Caleb Hood received the second most votes of all running backs. It shone in the spring and will be a name Tar Heel fans expect to hear a lot about during training camp.
For the inside linebacker, Gemmel and Asante are the only two proven guys, so there were no surprises for this position group. On the collateral / nickel backs, there wasn't much competition for the top two spots as Conley got 90.8 percent of the vote and Morrison got 59 percent.
Preseason All-UNC Third Team
QB – Jacolby Criswell (304)
RB – DJ Jones (220)
WR – Beau Corrales (591)
TE – Bryson Nesbit (239)
OL – Ed Montilus (157)
OL – Asim Richards (156)
DL – Keeshawn Silver (217)
DL – Kedrick Bingley-Jones (38)
OLB – Kaimon Rucker (217)
ILB-Rara Dillworth (158)
CB – Kyler McMichael (211)
S / NB – Cam'Ron Kelly (157)
The third and final team chosen by the IC readers. In his sophomore year, DJ Jones was selected as UNC's number 3 running back behind Chandler and Hood. He received 26.7 percent of the vote and was ahead of newcomer Kamarro Edmonds (10.5 percent), Junior Josh Henderson (10.4 percent), Redshirt newcomer Elijah Green (5.1 percent) and Senior British Brooks (2, 7 percent).
It will be a full adaptation by Michael Carter and Javonte Williams. And it's sure to be a running back-by-committee effort from UNC, so any of the guys listed above could work their way into the mix with Chandler and Hood.
The third tier of offensive linemen are Ed Montilus and Asim Richards, which makes sense since these six – Ezeudu, Tucker, McKethan, Anderson, Montilus, and Richards – are expected to have the most snapshots.
For the defensive line, Silver was the last player to receive at least 25 percent of the vote (26.3 percent) and was three votes behind Tomari Fox. Bingley-Jones, who missed the entire freshman season due to an injury, won the fight for the sixth best linemen according to the readers' vote. He beat Kevin Hester Jr. (28 votes), Clyde Pinder Jr. (27 votes), Jahlil Taylor (8 votes) and Kristian Varner (8 votes).
McMichael is cornerback # 3, which is interesting considering he led the team with six pass dropouts. Howell has said there is no drop in talent – one to four under the defensive backs – which certainly bodes well for the tar heel defense.
Four-star recruit Rara Dillworth defeated four-star recruit Power Echols, 158 to 117. You'll likely see both seasons to offload Gemmel and Asante throughout the season.
The position with the greatest drop in performance was safety / nickel back. Morrison and Conley, then Cam'Ron Kelly (157 votes), Giovanni Biggers (110 votes) and Don Chapman (89 votes). This can be seen in the different voices of the IC readers.
Preseason newcomer of the year
DL Jahvaree Ritzie (324)
DL Keeshawn Silver (172)
RB Caleb Hood (163)
ILB Rara Dillworth (73)
ILB energy echoes (48)
Others: RB Kamarro Edmonds (15), WR Gavin Blackwell (7), WR JJ Jones (5), OL Diego Pounds (5), CB DeAndre Boykins (5), QB Drake Maye (3), S Dontavius ​​Nash ( 3)
These results were some of the most interesting of the survey. Ritzie received 242 votes compared to Silver's 217 votes in the main poll. But he surpassed silver with 152 votes for Freshman of the Year. Both are capable of years of impact, but by the time they entered training camp, everyone saw more of Ritzie as Silver was injured for much of the spring.
Hood, who came third in the Freshman of the Year poll, has the highest freshmen cap when you factor in the impact on the team. The line of defense has proven players in Vohasek, Murphy and Tomari Fox. The running backs don't have a single proven tar heel. Hood could certainly fill that position and be the most impactful tar heel newbie this season.
Attack vs. defense
Attack (610) over defense (215)
IC readers overwhelmingly voted UNC's offensive better than their defense – 73.9 percent versus 26.1 percent. Having a Heisman candidate on the offensive in Howell certainly skews the results. Plus, the offensive side of the ball has fewer question marks about who readers think is best in each position.
Each first-team selection for the offense had at least 523 votes. Take off Jordan Tucker as the No. 2 offensive lineman and the offense has Howell (821), Chandler (775), Downs (799), Walston (801) and Ezeudu (780) to at least 94.5 percent of the vote.