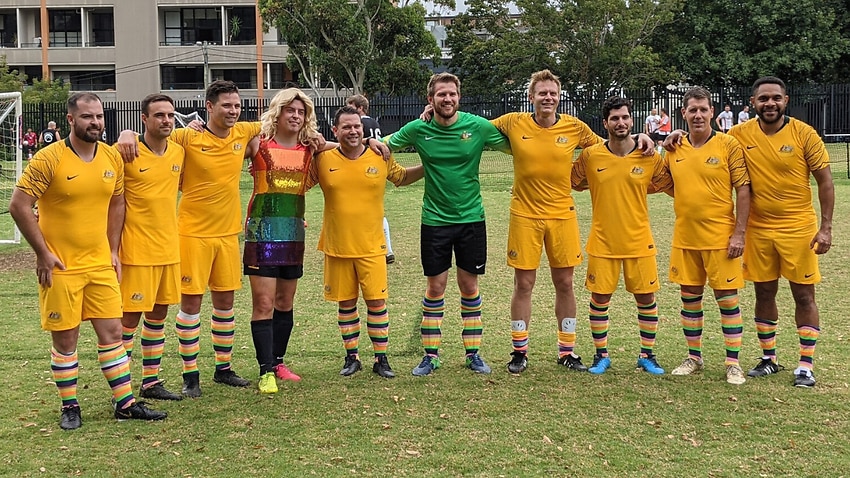 Pride Football Australia, which was founded in 2012, aims to enhance the experience of LGBTIQ football players at the grassroots and amateur levels.
They are trying to work with governing bodies like Football Australia and the A-League to "try not only to educate them but also to promote the importance of diversity and inclusion in the game," said the organization's president, James Cardall, of the talked to them The world game on the TWG Live Show today.
"It was such a good event," said Cardall of PFA Day 2021, which was attended by employees from Football Australia, A-League and W-League.
"It was actually the biggest LGBTIQ event in Australian football history.
"We had around 250 players and spectators in Brisbane, Melbourne and Sydney during the day.
"Football Australia, which was really behind the event, was absolutely tremendous for us.
"We couldn't quite believe the effort they made. Not only did they submit two teams, but they also got CEO James Johnson to compete and speak at the end of the event, where he talked about the importance of inclusion and Diversity spoke within the game and how he sees that this will be the future of the game.
"It was pretty overwhelming to be honest, but it was a great day.
Cardall also confirmed that Johnson, a former professional player, has retained his competitiveness and much of his skills.
"He was surprisingly good," said Cardall.
"When we saw him, I said to some of my friends, 'Please don't take him out, make it easy for him because it's so good that he's here.'
"He made it to the semi-finals and he still has the spark of wanting to win and I think he was a little upset that he didn't take the medal home with him.
"It was great that he and Football Australia were part of the day."
Despite good progress, Cardall believes that "there is still a fair way to go" regarding LGBTIQ issues in football and PFA's long-term goals.
"We would like to see an LGBTIQ football team in every state," he said.
"It would be a pretty strong message for a professional player to come out, but I think the pressure shouldn't be on the player to come out – the pressure should be on us to have this welcoming environment in which to be comfortable." For me, that is the long-term goal.
"It's huge to be working with the likes of James Johnson and Football Australia and being so open about what we're trying to do and if we can keep this ball going, hopefully for the next few years [welcoming environment] will be the case. So yes, that's the goal. "