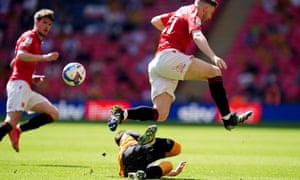 4.09pm BST16:09
48 min Newport have made a fast start to the second half. A long kick from the keeper King is headed infield by Amond and miscontrolled by Labadie on the edge of the area. His poor touch turns into a pass to Collins, whose deflected shot is saved by the keeper Letheren as he falls to his left.
4.06pm BST16:06
47 min Morecambe switched to a back three during the first half, with Songo'o dropping in from midfield. I completely missed it, I won't lie to you, but it was highlighted by the excellent Sky Sports punditry team during the break.
4.04pm BST16:04
46 min Peep peep! Morecambe begin the second half. No changes on either side, but Kevin Ellison has been warming up with intent.
3.57pm BST15:57
"Hi Rob," says Richard Mason in Dublin. "I'm cheering Morecambe on today for no other reason than that in 2006 I went for a day trip with pals to Nottingham. We went to Meadow Lane to watch Notts County take on the Shrimps and ended up in the Morecambe end with our shoes on our hands singing a chorus of 'shoes off… if you love the Shrimps'. We later went to the greyhound track in Notts and won a tidy sum. A fond memory we still talk about, and the reason I'm watching this match sans shoes. Up the Shrimps!"
3.53pm BST15:53
Half time: Morecambe 0-0 Newport
Peep peep! A cagey half ends goalless. Both teams played plenty of good football without creating too many clear chances. Liam Gibson had a shot cleared off the line for Morecambe; Newport's best efforts came from Scot Bennett, a header and a deflected shot that both went just wide. They also had a case for a penalty when Bennett was punched in the face by the Morecambe keeper Kyle Letheren after beating him to the ball for the aforementioned header.

Close: Scot Bennett shoots. Photograph: Kieran McManus/BPI/REX/Shutterstock
Updated
at 4.00pm BST
3.50pm BST15:50
45+3 min I know Newport have embraced tiki-taka, but that Bennett shot was a rare demonstration of Ramba-Zamba. Sheehan played the Gunter Netzer role, with Bennett moving forward from the back like Franz Beckenbauer.
3.48pm BST15:48
45+2 min The resulting corner is headed over by Demetriou in front of the near post.
3.48pm BST15:48
45+1 min: So close from Bennett! Sheehan brings the ball forward and slides a nice pass between the lines to Bennett, 35 yards from goal. He runs at a backpedalling defence and drives a shot that takes a big deflection off Songo'o, wrongfoots the keeper Letheren and drifts this far wide of the post.
3.44pm BST15:44
42 min: Off the line by Shephard! Lewis misses a clearance 25 yards from goal, allowing Mendes Gomes to slide the ball through to Gibson in the area. He screws it back past the outrushing King, but Shephard gets back to block. That was a vital bit of defending because, although there was another Newport player on the line, I think Gibson's shot would have sneaked in the far corner.
3.42pm BST15:42
41 min Lewis sees Wildig's misplaced optimism and raises it by trying a long-range volley – a proper volley, not one of those bouncing non-volleys – from a tight angle. Goalkick to Morecambe.
3.41pm BST15:41
40 min In the Premier League, Sheehan might have been sent off for that tackle. In League Two, nobody really batted an eyelid. It's the little differences.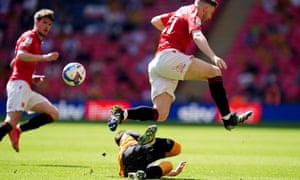 Ryan Cooney is tackled by Newport County's Josh Sheehan. Photograph: John Walton/PA
Updated
at 3.48pm BST
3.40pm BST15:40
39 min Sheehan ploughs through Cooney, taking both man and ball. Play continues and Morecambe break promisingly, and then Wildig goes and spoils it all by saying something stupid like, 'I fancy a pop from 25 yards'.
3.36pm BST15:36
35 min There's a break in play after 34 minutes so that both sets of players and fans can applaud the late Christian Mbulu.
3.34pm BST15:34
34 min For all the promising approach play, there has only been one shot on target in the match, Sheehan's dribbler in the 24th minute.
3.34pm BST15:34
32 min The corner is headed away to Sheehan, who shoots well wide from the edge of the area.
3.33pm BST15:33
31 min Amond runs onto a classy backheel from Collins in the inside-right channel and hits a shot that is deflected behind for a corner.
3.30pm BST15:30
29 min King comes for a cross and, though he gets to it a fraction before Stockton, his unconvincing punch goes behind for a corner. Morecambe work it short and Lewis charges out to block.
3.28pm BST15:28
25 min It's so hot at Wembley that the officials have factored in a drinks break.
3.26pm BST15:26
24 min Demetriou's flat long throw is headed away by Knight-Percival, but only as far as Labadie, 12 yards out. His snapshot is crucially blocked and the follow up from Sheehan (I think) dribbles through to Letheren.
3.24pm BST15:24
23 min Stockton's dangerous low cross from the right just evades Wildig at the near post.
3.23pm BST15:23
21 min Demetriou varies the Newport throw-ins by hurling the ball to Shephard 25 yards from goal. He has a touch and drills a low shot that is blocked by his teammate Labadie. I think it was going wide anyway. Labdadie was also given offside, though that wouldn't have mattered had Shephard's shot gone straight in.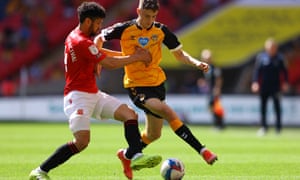 Lewis Collins of Newport County is challenged by Nat Knight-Percival. Photograph: Richard Heathcote/Getty Images
Updated
at 3.30pm BST
3.22pm BST15:22
20 min This is becoming a decent game, with lots of precise short passing from both teams. And the occasional long throw from Demetriou, but nobody's perfect.
3.18pm BST15:18
16 min Morecambe break three-on-three from a Newport corner, only for McAlinden to let the ball run under his feet 25 yards from goal. That was a good chance. Just before that, there was another penalty appeal after a man-and-ball challenge by Knight-Percival on Demetriou. It was a good tackle, though had he made contact a split-second later it would have been a penalty.
3.16pm BST15:16
15 min Now Morecambe appeal for a penalty when Stockton's stopping header hits somebody on the hand. I thought it hit his teammate Mendes Gomes; either way, Bobby Madley again says play on.
3.15pm BST15:15
122 min: Chance for Newport! Another long throw from Demetriou tempts Letheren from his line. But this time the ball swings away from him towards Bennett 10 yards from goal. He gets there first, just before Letheren, and heads just wide of the empty net. He was also punched in the face by Letheren, who was going for the ball but got there a fraction too late and crumped both fists into Bennett's coupon. Newport's penalty appeals are ignored and there's no VAR today.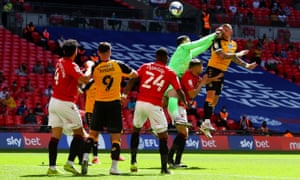 Ouch: Scot Bennett punched by Kyle Letheren. Photograph: Kieran McManus/BPI/REX/Shutterstock
Updated
at 3.24pm BST
3.11pm BST15:11
11 min It's been a pretty slow start, which is probably down to the heat more than the nerves.
3.07pm BST15:07
7 min At the other end, Demetriou's long throw is confidently held by Letheren. That was excellent goalkeeping, decisive and accomplished.
3.06pm BST15:06
6 min Morecambe look the more spritely team so far, especially Mendes Gomes on the left.
3.04pm BST15:04
4 min Stockton lifts the ball over the top towards McAlinden, who is beaten to the ball on the edge of the area by King. Good sweeper-keeping.
3.04pm BST15:04
4 min "Hi Rob," says Matt Burtz. "It's also a holiday here in the US and I can think of no better way to spend a Monday morning than watching this match. My literal money is on Morecambe, and personally I don't know how anyone could root against a team that has a shrimp on their crest (except for Newport fans). And isn't the right to play Sunderland twice next season incentive enough to win today?"
3.03pm BST15:03
3 min That free-kick aside, it's been a watchful start from both teams.
3.02pm BST15:02
2 min Morecambe try a training-ground free-kick, with Mendes Gomes shooting wide on the turn from 18 yards.
3.01pm BST15:01
1 min Peep peep! Newport kick off from left to right. They are in amber and black; Morecambe are in red.
3.00pm BST15:00
It's not such a thrill to hear a few boos as the players take a knee.
3.00pm BST15:00
It's such a thrill to see fans of both clubs dotted around Wembley. Here we go.
2.55pm BST14:55
The players stroll into the north London sunshine. It looks sweltering, which might make for a slower tempo than usual. May the best team win!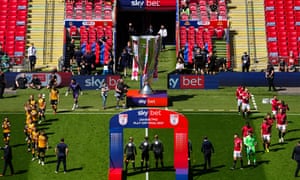 Players come out & line up. Photograph: Jed Leicester/BPI/REX/Shutterstock
Updated
at 3.09pm BST
2.44pm BST14:44
And his manager Michael Flynn
"Joss [Labadie] is raring to go. He was probably ready to start the second leg against Forest Green but we wanted to be extra careful because he's a big player for us. I'm hoping we don't need Kevin [Ellison] today, but if he comes on and scores the winner, fair play. We've got to enjoy it. We've had a great season – the staff, the players – and now we want that last push to give those fans something to celebrate."
2.44pm BST14:44
The pre-match thoughts of Kevin Ellison
"It's not about me – it's about Newport. I want to get involved but if that doesn't and we win, I'll be just as happy. The last time [when he scored against Morecambe] my emotions ran wild, so I don't know what will happen if I score today. More importantly I just want to be happy at the end of the game."
2.40pm BST14:40
The pre-match thoughts of Derek Adams
"We've got a really fit squad now, and John O'Sullivan gets himself onto the bench. He's been out for a long while. We feel that the players in the starting XI are the ones who can win the game. [Tell us about Kevin Ellison, Derek] It's all about us – it's how we play and how we take the game to Newport. We need to continue what we've been doing this season – we're one of the highest scorers in the division and we created more opportunities than any other team. We can defend as well, and we need to do all that today if we are to get the win that everyone at Morecambe wnts.
"Before the match I'll tell the players to take great pride in where they've come from and what they've done this season. We've got the lowest wage bill in the EFL, and that tells you about our team spirit and ability. I want them to enjoy the occasion. But you only enjoy it if you win."
2.37pm BST14:37
The teams in probable formation
Morecambe (4-2-3-1) Letheren; Cooney, Lavelle, Knight-Percival, Gibson; Songo'o, Diagouraga; McAlinden, Wildig, Mendes Gomes; Stockton.
Substitutes: Halstead, Mellor, Davis, Kenyon, Lyons, O'Sullivan, Pringle.
Newport County (3-5-2) King; Shephard, Bennett, Demetriou; Lewis, Labadie, Sheehan, Dolan, Haynes; Amond, Collins.
Substitutes: Townsend, Farquharson, Ledley, Hartigan, Ellison, Maynard, Taylor.
Referee Bobby Madley.
2.36pm BST14:36
It's another gorgeous day at Wembley, with the temperature pushing 25 degrees. To make things even better, one of the Sky Sports pundits is Championship Manager 01-02 icon Michael Duff. What a pleasure to put a face to a name that gave so many lonely males so much pleasure with his remorseless consistency at right-back.
Updated
at 2.36pm BST
11.50am BST11:50
Preamble
Hello and welcome to live, minute-by-minute coverage of the League Two play-off final between Morecambe and Newport County at Wembley. This is, gulp, the 1671st and final game of another soul-stirring EFL season, and one way or another it's going end on a high. By 5pm, at a push 6pm, one of these teams will be in the giddiest of stratospheres: League One.
Morecambe have never played in the third tier before; nor have this iteration of Newport County. They were last in the old Division Three in 1986-87, a couple of years before the club went out of business. A reformed team started in the Hellenic League, where they played the likes of Kintbury Rangers and Almondsbury Picksons, and eventually returned to the Football League in 2013 under the late, legendary Justin Edinburgh.
Since then they have been ever-present in League Two, though they came heartobliteratingly close to promotion when they lost in controversial circumstances to Tranmere two years ago. They are a different team now. Their manager Michael Flynn used the first lockdown to plan a style overhaul, and this season Newport have brought a bit of tiki-taka to south Wales.
At Morecambe, there has been a change of substance. This is only the second time since they became a Football League team in 2007 that they have finished in the top 10. In the last five years their league positions have been 21st, 18th, 22nd (when they avoided relegation to the National League on goal difference), 18th and 22nd. In his first full season, and with precisely £0 to spend on transfer fees, their Scottish manager Derek Adams has done an astonishing job.
The play-off final, particularly in the Championship, is usually framed in financial terms. Nobody gives a stuff about money today; this one's for the glory.
Kick off 3pm.
Updated
at 2.31pm BST