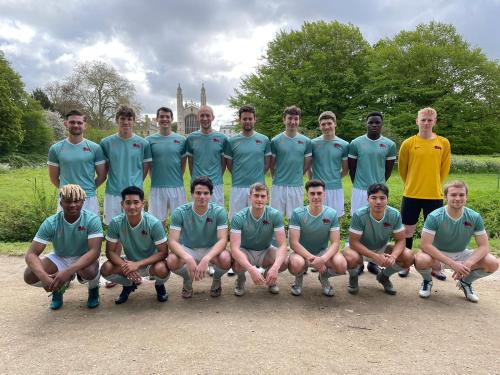 The women's game starts this afternoon (6/26) at 12:15 (BST) CUAFC
Ahead of the Varsity football games this afternoon (6/26) at Court Place Farm in Oxford, Varsity speaks to members of the men's and women's teams of the Cambridge University Association Football Club (CUAFC) as the pale blues try to emulate their one-two from 2019 where they after a 1-1 draw, they won the women's match 3-1 and the men's match 5-3 on penalties.
Men's captain Alex Bull first addressed the unprecedented way of preparing for this year's varsity game. After the cancellation of last year's game, Cambridge's squad went through the usual ups and downs, but combined with the experience of an unusual exam semester, the team spirit would certainly have been put to the test. Alex rejects such difficulties, however, to praise the "really good characters at camp this year" and notes the abnormal "testing and training pressure for Varsity in the middle of the 24-hour test": "We're not professionals In the end, we do it because we love football. "
Tati Kasujja from the women's team also pointed out the difficulty of "balancing the attempt to come back and give one hundred percent and at the same time making sure that we do not get injuries on the way", although she was referring to the team's "high fitness standard". Ailie Rennie, the women's captain, added: "I can't blame anyone for their commitment during this time." […] we always had the mentality that you are primarily students, but […] the number of sessions people have had while trying to juggle as a student at Cambridge […] is unbelievable."
"The number of sessions people have had while trying to juggle as a student at Cambridge […] is unbelievable"
Another factor to add to this potential list of complications is the third generation (3G) artificial pitch at Marsh Lane Stadium in Oxford. When asked about the details of Cambridge's preparation against this backdrop, Alex praised the fortune to have available to Homerton's newly built AstroTurf pitches: "We've moved all of our training to this pitch, so hopefully Oxford won't have one in that regard Too great an advantage over us. "Unlike a grass surface, artificial terrain allows for smooth ball movement because of its flatness, a component that Alex believes will benefit his team:" If, like us, you are really good ballplayers in the middle of the park you can play nice, fast-paced football, which I think will benefit us. "Meanwhile, Rennie dismissed concerns about playing on a 3G field, with the women's team training once a week in preparation for the game.
The trip to Marsh Lane also means the Light Blues have the opportunity to play in front of an audience – a seemingly distant memory that's only just re-emerging in competitive sports. Marsh Lane, home of the National League South team, Oxford City, has a modest 529 seating and standing room compared to the 6,500 seats found in the usual venue, The Hive in Barnet. Although this "close atmosphere" will host "some abuse by the large Oxford contingent", Alex claims that "these are the moments you live for when you are watched by people and the pressure is increased a little" .
But perhaps that pressure can be alleviated by recent shaping, particularly the 2-2 draw in a recent friendly against the University of Reading. Not willing to give too much away (and understandably so), Alex explains that the team's approach was characterized by "breaking the game into different segments and treating each 20-minute stage very differently". This pragmatic approach is then complemented by the youthful "firepower" of the team, as Alex praises the growth of Cambridge's "incredible newcomers": "It was noticeable their development over the course of the season, becoming smarter and a little bit nastier as a team needs. "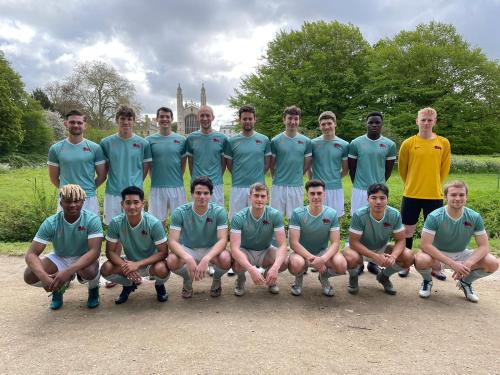 Ryan Hoffmann: "Being in Oxford will make it even sweeter to beat them" CUAFC
Jason Cotsapas' dissertation, channeling that nastiness into perpetuating the game's longstanding rivalry, has reportedly become a "complete side note" with the game "all that matters". Meanwhile, Ryan Hoffmann notes the "deadly left foot" of his teammate Nick Gallagher and adds that "being in Oxford will make it even sweeter to hit her".
While Rennie admitted that the women's team couldn't play too many games in preparation for the varsity match, she said that "although they didn't really know what" [Oxford] will be like this year and since we haven't played a lot of games, we feel well prepared for this game. She added: "We have a good squad too […] We're really lucky with the players who have come and the people who have never played in a varsity before feel well prepared to know what the atmosphere will be like and ready to take it in. "
"[Lewis] was known for his brilliant coaching, but more than that we loved him for his kind, generous and funny character. "
This year's games have a remarkable sharpness. Court Place Farm was selected in honor of former Dark Blues coach Mickey Lewis, who sadly passed away in March of this year after coaching the Oxford University Association Football Club (OUAFC) for eighteen years. Bull and Rennie paid tribute to Lewis, and Oxford Men captain Ben Putland told Varsity that his death "rocked not only the current club and alumni, but the wider football community as well".
Putland continued: "[Lewis] was known for his brilliant coaching, but more than that we loved him for his kind, generous, and fun character that made spending time with him the highlight of our week […] I speak for everyone who helped plan the varsity event this weekend when I say that Cambridge was incredibly supportive and ultimately made this weekend possible, and that we remember Mickey in a way he deserves. "
There is a minute of applause to commemorate him and his wife and son are also presented with a framed blues blazer. With OUAFC raising £ 15,000 internally, a broader fundraiser between OUAFC, Oxford City Football Club (OCFC), Oxford United and Stonesfield has raised over £ 22,000 to date (as of 6/26). Rivalry and mutual commemoration will stand side by side on this emotional football day.
You can keep up with the action minute by minute with the matchday coverage on the Varsity blog, which begins around noon (BST) as the women's game starts at 12:15 PM, followed by the men's game at 3:15 PM.
Expected squad
Ladies
Cambridge: 1) Jen Atherton, 3) Anna O'Leary, 5) Arden Dierker Viik, 6) Ailie Rennie (C), 17) Tati Kasujja, 4) Fran Steele, 8) Belle Roston, 23) Temi Adeyemi, 11) Nia Hall, 7) Izzy Boothroyd, 9) Laura Mitchell. Subs: 14) Cara Drumgoole, 2) Molly Woods, 10) Bronte Evans-Rayward, Tamara Creswell-Wells, Polly Hipkiss, Neve Mayes, Heather Muir
Oxford: 1) Emilia Halfpenny, 2) Isabella Wordsworth, 4) Cadie Higginson, 5) Alice Nichols (C), 7) Alessandra David, 8) Taiye Lawal, 10) Rani Wermes, 11) Erin Robinson, 12) Ellana Slade, 13) Roza Bailey, 14) Grace Molloy, 15) Francisca Vasconcelos, 16) Daisy Connolly, 17) Hannah Bruce, 21) Iona Ffrench-Adam, 22) Madeleine Kowalenko
Men's
Cambridge: 1) Tim Wallace, 2) Max Stacey, 3) Nick Gallagher, 4) Patrick Mortimer, 5) Ben Adam, 6) Alex Bull (C), 7) Brody Wooding, 8) Callum Thomson, 9) Lumi Kanwei, 10) Louie Roberts, 11) Ryan Hoffmann, 12) Ellis Birch, 14) Fortina Oshasha, 15) Ujjal Sunuwar, 16) Jason Cotsapas, 17) George Pugh
Oxford: 1) Harry Way, 2) Kaiyang Song, 3) Alex Rickett, 4) Ben Putland (C), 5) Daniel Clifford, 6) Charlie Peters, 8) Ryan Clark, 9) Jake Duxbury, 10) Fidan Suljik, 11) Alfie Cicale, 12) Jeremy Ratcliff, 14) Finlay Ryan-Phillips, 16) Joseph Hickey, 17) Oscar Guy, 23) Luke Smith, 28) Chris Coveney
Varsity is the University of Cambridge's independent newspaper, founded in its current form in 1947. In order to maintain editorial independence, our print newspaper and news website do not receive funding from the University of Cambridge or its constituent colleges.
We are therefore almost entirely dependent on advertising for funding and expect some tough months and years to come during this unprecedented global crisis.
Despite this situation, we will look for innovative ways to serve our readers with digital content and, of course, also in printed form.
We therefore ask our readers, if they wish, to donate as little as £ 1 to cover our running costs at least until the end of this global crisis and until things return to normal.
Thank you, we all here at Varsity want to wish you, your friends, families, and all your loved ones a safe and healthy few months in advance.