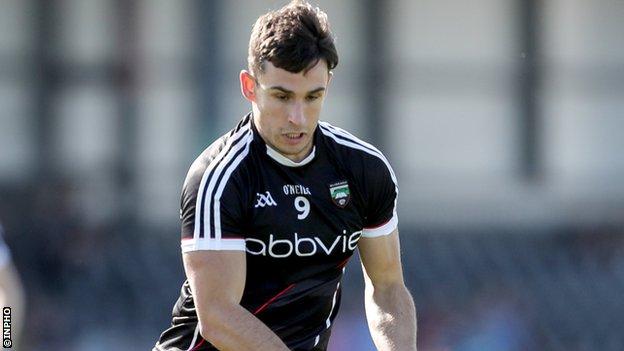 Niall Murphy scored 2-5 for Sligo but was sent off late
Paddy Cunningham said Antrim needed to "dig deep" after winning their second straight Division 4 game at the last minute.
Cunningham's winner with the final kick of the game ensured Antrim beat Sligo 3-13-3-12 in a thrilling match at Corrigan Park.
Antrim Top Division Four North thanks to two late wins.
"It wasn't very pleasant to play but we dug in to the end and it's a great result," said Cunningham.
"It was definitely an end to end and it could have gone either way. I would say it was a very exciting game for the neutrals."
The teams were tied at half-time, but Sligo took control when Niall Murphy scored his second penalty of the game.
Antrim struggled and almost won when Eunan Walsh scored in added time, but Nathan Rooney converted a penalty seconds later at the other end to improve the game again.
However, Cunningham split the posts with an excellent result with the final kick of the game.
"We were under serious pressure after Louth last week and we dug in until the final whistle," added striker Cunningham.
"It doesn't really mean that much to me personally. There's a good mix of youth and experience. In the past few years, when their goal was achieved, we would have lost one point. I think that's something that management really is. " try to put in us.
"We have three big weeks ahead of us and hopefully a play-off against the Southern Division team, whoever that is.
"There is a lot of hard work, we will try to do another performance next week."
Slow start, hectic end
It was a slow start at Corrigan Park but a scoring chance for Antrim brought the game to life. Adam Loughran played an excellent ball for unmarked Kevin Small, who slipped while trying to collect the ball with a gaping goal.
Eastwood kicked an excellent point and his target brought daylight between the sides. Small saw his powerful shot blocked by Eamon Kilgannon, but Eastwood was in the right place to pick up the ball and shoot it into the unguarded net.
Two points from Sean Carrabine put Sligo on the board, but Mark Jordan scored Antrim's second goal with a composed finish after being played by Conor Murray and leaping the ball behind Kilgannon.
Carrabine and Niall Murphy stopped the antrim swing, but Eastwood was free before the water break gave the hosts a 2-2 to 0-4 lead.
Ryan Murray kicked his first free kick for Enda McGinley's men, but Murphy and Conor Griffin's excellent solo finish kept Sligo in touch again.
Niall Murphy won a penalty in the 24th minute when challenged by goalkeepers Michael Byrne and Declan Lynch. The striker wiped himself off and sent an excellent penalty to even out the score.
Ricky Johnston and Ruairi McCann restored Antrim's lead, Murphy hit back with two well-hit points directly for the visitors. Eastwood's excellent result put Antrim ahead at halftime, but the hosts had put Ryan Murray on the black card and Sligo instantly capitalized when Murray scored a free-kick as the teams came in 2-6-1-09.
Antrim fights back after Sligo penalty
The wind and rain picked up during the break, but Sligo's free players picked up where they left off when Carrabine jumped over a point after moving a foul forward for the hosts' indiscipline and Cian Lally another point had thrown out of the game.
Eunan Walsh and Conor Murray leveled Antrim again, but the game soon swung in Sligo's favor when Paddy O'Connor was overthrown while trying to stick the ball into the Antrim net.
Sligo received the second penalty of the game and Murphy converted to the lower right corner just before Darragh Cummins put four points between the sides at the water break.
Paddy McBride's point from the game offered the Saffrons a much-needed respite and Ryan Murray, back on his turn after his black card, reduced the lead to 10 minutes to play with two points.
Murphy picked up a second yellow card in the closing stages when Sligo finished the game with 14 men, but Walsh hit the ball in the net with what many believed was the winning goal.
The referee forgave Sligo a penalty seconds later for denying a chance in the 'D' and Rooney switched in the 42nd minute of the second half to try to improve the game again.
Substitute Cunningham, who turned 36 this week, scored a superb point to give Antrim their final win for the second straight year.
Antrim: Byrne, McAuley, Lynch, Healy, Jordan (1: 0), Laverty, McAleese, Stewart, McKeever, R. Murray (0: 4), Loughran, R. McCann (0: 1), Eastwood (1: 3), Small, C Murray (0-1).
Subs: Mulholland, Bradley, Crozier, Cunningham (0-1), Delargy, Johnston (0-1), McBride (0-1), McCabe, T. McCann, McCormick, Walsh (1-1).
Sligo: Kilgannon, Lyon, McGuinness, Feehily, Cummins (0-1), McNamara, Cawley, Kilcoyne, O'Connor, Griffin (0-1), Lally (0-1), Quinn, R. Murphy, N. Murphy (2 -5)), Carrabine (0-4).
Subs: Davey, Gordon, Mullen, McGovern, Kennedy, G. Gorman, McKenna, Conlon, Rooney (1-0), Naughton, B. Gorman.
Results of the Allianz Football League on Sunday
Dublin

4-09

Kerry

1-18

Galway

2-13

Roscommon

1-13
Leitrim

0-10

Louth

0-19

Antrim

3-13

Sligo

3-12