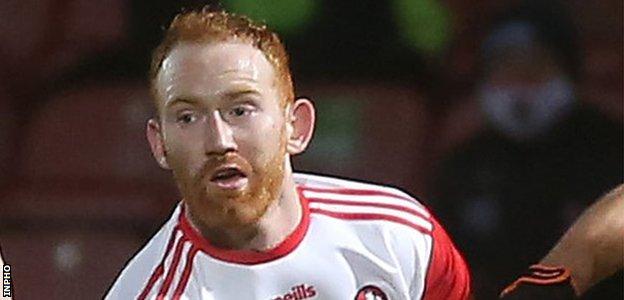 Eoin Donnelly led Fermanagh to an impressive opening win in the Three North division
Fermanagh prevailed in the 0:15 to 0:14 win at the start of Division 3 North against the Ulster champions Cavan.
Both sides saw a man sent off when Sean Quigley starred on his return to the Inter-County group with nine points.
Elsewhere in the division, Derry scored a 21-21-0-5 opening win over Longford.
Slaughtneil clubman Shane McGuigan scored the first goal for the Oak Leafers with seven points, five of which came from free kicks.
Fermanagh prevailed in the thrilling Ulster competition
Following their memorable success at the 2020 Ulster Championship, Cavan came to Brewster Park as a favorite but faced a persistent Fermanagh inspired by the return of striker Quigley.
It was a breeze throughout the competition. Quigley and Cavan debutant Patrick Lynch led the charges for their teams and traded points as neither team was more than two points ahead.
With the score and halftime in just two minutes, Cavan was reduced to 14 men when Conor Brady saw red for beating Erne captain Eoin Donnelly.
In truth, the numerical disadvantage didn't seem to bother Cavan and eight minutes into the second half the numbers were leveled when James McMahon showed a second yellow.
Meanwhile, Quigley continued to make Cavan pay for her poor discipline by sending frees – and the Roslea man had a big hand on the game's greatest scoring chance when he played at Donnelly, whose attempt came back from the post.
Cavan kept pushing and a series of late free kicks from Gearoid McKiernan ensured Fermanagh was not guaranteed a win until the final whistle.
Fermanagh: C snow; C. McManus, J. Cassidy, L. Flanagan; K. Connor, J. McMahon, K. McDonnell; E Donnelly, S McGullion; C. Corrigan (0-4), T. Bogue, J. Largo Ellis; C Love (0-1), D McGurn (0-1), S Quigley (0-9, 7f).
Subs: S. McNally, R. Breen, D. Leonard, A. Breen, D. McCusker, B. Horon, R. O'Callaghan, S. Cassidy, M. McCauley, P. McCusker, J. Flanagan.
Cavan: R Galligan (0-1, 1f); K. Clarke, P. Faulkner, Conor Brady (0-1); Ciaran Brady, S. McEvoy, L. Fortune; J Smith, K Brady; C. Smith (0-1), G. McKiernan (0-4, 4f), M. Reilly; O Brady, P. Lynch (0-4, 2f), C. McGovern (0-2).
Subs:G O'Rourke; J. McLoughlin, C. Conroy, S. Murray, C. Reilly, M. Argue, O. Pierson, S. Cadden, T. Galligan, C. Madden (0-1), O. Kiernan, G. Smith.
Derry ease to the big opening win
Derry began his Division Three North campaign dominantly with a 21-21-0-5 win over Longford in a rain-stricken Pearse Park.
Conor Glass and Emmett Bradley impressed in midfield for Rory Gallagher's side, which was rarely disturbed by their hosts.
Derry, who narrowly missed promotion to Division 2 last year, were by far the superior team in the first half and comfortably won the battle for sales as they limited their hosts to just one point out of the game.
The County of Oak Leaf opened a commanding six-point lead at half-time as McGuigan scored three free kicks and the excellent Glass score was arguably the point of the game to put Derry on the board after Darren Gallagher's free-kick for Longford.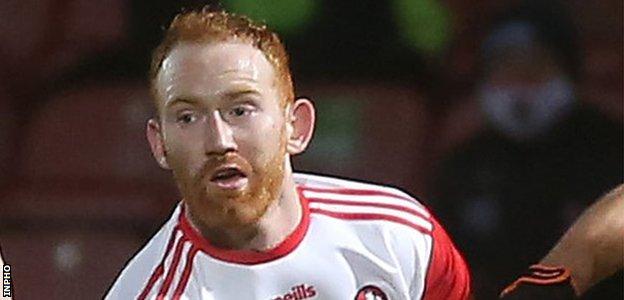 Conor Glass was excellent for Derry in midfield
Derry, who not only scored eight points in the first half but also scored five goals, failed to implement the only real scoring opportunity of the first half when Longford keeper Paddy Collum McGuigan and Benny Heron denied during a goal maw fight.
The guests started where they left off after the break when McGuigan and Bradley scored well on either side of Longford's black card from David McGivney for cracking down on Gareth McKinless.
Longford's later numerical disadvantage was also revealed when Derry mercilessly overtook a string of unanswered results from Loughlin (2), Ciaran McFaul and McGuigan to take the game well beyond the hosts within 15 minutes of the restart.
Longford had a brief second-half break in the second half when Gallagher and Larry Moran both split the posts, but Derry quickly regained control with Bradley, McGuigan, Loughlin and substitute Ben McCarron making the away team over 20 points -Brand brought.
Longford: P. Collum, P. Fox, A. Farrell, CP Smyth, D. Reynolds, G. Rogers, D. Mimnagh (0-1), D. McGivney, K. Diffley, D. Gallagher (0-3, 1f) , R. Brady, M. Quinn, R. Smyth, L Connerton, O Kenny.
Subs: Lynn P., McKeon B., Hagan J., Moran L. (0-1), Doherty D., Flynn G.
Derry: O Lynch, C. McKaigue, B. Rogers, P. McGrogan, P. Cassidy (0-1), G. McKinless, C. Doherty, C. Glass (0-2), E. Bradley (0-3), E. Doherty, N. Loughlin (0-) 6, 4f), C. McFaul (0-1), B. Heron, S. McGuigan (0-7, 5f), P. Cassidy.
Subs: O McWilliams, P. McNeill, J. Doherty, M. McEvoy, B. McCarron (0-1), C. McShane.