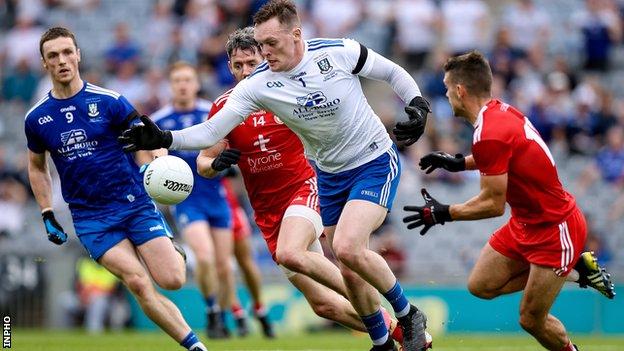 Darren McCurry and Michael McKernan were both among Tire's scorers at Croke Park
Tyrone prevented Monaghan's comeback in the second half and won a 16th Ulster Football title when the Red Hands took a dramatic 0-16-0-15 win at Croke Park.
After Tyrone had control at halftime with 0-11 to 0-6, he was shaken when Monaghan equalized in the 49th minute.
But Tyrone scored three points in a row to lead 0-15 to 0-12 while Monaghan was kept goalless for almost 15 minutes.
Amid incredible excitement, Monaghan reduced Tire's lead to a minimum, but the Red Hands somehow held on.
In an exceptional match, both goalkeepers spent much of the match near the center line as they got involved in the field.
Most memorable seemed Rory Beggan towards the end of the competition when he was badly caught when Mattie Donnelly charged for an unguarded gate, but the Monaghan keeper came back to expropriate the Tyrone all the way up front.
Tyrone's win sets up an All-Ireland semi-final with Kerry, who pounded six goals behind him in the Division One Football semi-finals last month.
Joint boss Logan missing in Tyrone dugout
The contest began with Tire's joint manager, Feargal Logan, not standing on the sidelines next to Brian Dooher after he was apparently forced to self-isolate over a Covid-19 problem.
Players Frank Burns and Tiernan McCann were also unavailable for the Red Hands, with Burns not being in the squad at all and McCann being replaced by Mark Bradley after he was originally named in the starting XI.
The upheaval didn't affect Tyrone in the first half, however, as two points from the excellent Donnelly started them off three times before expanding their 0-6 to 0-4 Waterbreak lead by 0-11 to 0. 6 at halftime.
With Monaghan's tactic of backlashing Niall Morgan's kickouts, Tyrone was able to break back on the Farney defense, with Donnelly and the late picking Conor McKenna being particularly prominent.
After Jack McCarron's point equalized Monaghan for the third time in the 14th minute, points from skipper Padraig Hampsey and Niall Sludden gave the Red Hands a two-point lead that they held until the water break, but Tyrone cut in the second quarter from loose.
The Red Hands responded to a Beggan Free that cut their lead to 0-6 to 0-5 when McKenna and McCurry then exquisitely lofted over the points to make the three.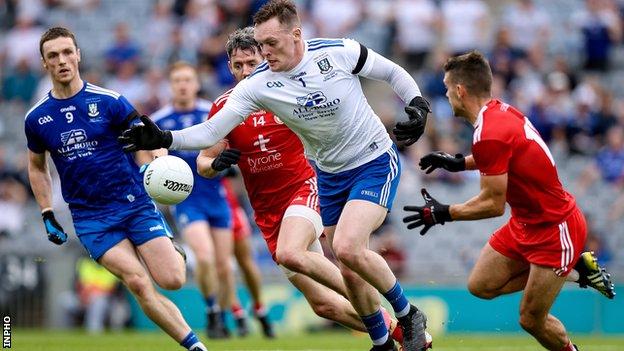 Rory Beggan spent much of the second half near Monaghan's 65 line as he gathered his teammates for a sweeping comeback
A Conor McCarthy point briefly halted the Tyrone onslaught before Donnelly's third point of half and further efforts from Bradley and McCurry brought the O'Neill County's five on break.
After their sluggish and strangely inhibited efforts in the first half, Monaghan looked big trouble at break but they reacted great and were just one free kick on their opponents' ball within two minutes of the restart after goals from McCarthy and Beggan.
Beggan was the central figure on the field in the second half as his mere presence around Monaghan's 65-yard line seemed to rally his teammates.
While a McCurry freedom expanded Tire's leadership back to four, power was with Monaghan when her extraordinary revival shook the Red Hands.
Points from McManus and influential substitute Colin Walshe reduced the lead to just two and in 49.
But then came a big moment when Monaghan missed a scoring opportunity as Walshe's pass was too low for McCarthy, who couldn't rally when the relieved Tyrone defense cleared.
Tyrone recovered from paralysis in the third quarter
The exit seemed to free Tyrone from the paralysis that had gripped her since half-time and substitute Cathal McShane, who struggled with his handling after his introduction, restored the lead in the 51st minute.
As the game hit the hour mark, veteran Peter Harte then slammed his right foot over a rare and important point before a soft free win by Donnelly in the 62nd minute was fully exploited by McCurry.
To her credit, Monaghan kept fighting as they hit three of the last four hits with defenders Conor Boyle and Kieran Duffy on target before a McManus went off the minimum between the sides.
The last minute of regular time saw the extraordinary moment that will go viral video when the indefatigable Beggan somehow came back to dispossess Donnelly as he stormed the gate.
Niall Morgan wasted time on an injury-time kickout when the ball was thrown on 21 by referee David Gough, but the chance of Monaghan leveling never really came as the relieved Red Hands held on.
Monaghan: R Beggan (0-2); K Duffy (0-1), C Boyle (0-1), R Wylie (captain); K O'Connell, D Ward, R McAnespie; D. Hughes, K. Lavelle (0-1); S O'Hanlon, A Mulligan, M Bannigan; C. McCarthy (0-2), J. McCarron (0-3), C. McManus (0-5).
Subscriptions: R Farrelly, K Hughes for O'Hanlon 54, K McMenamin, C Walshe for O'Connell halftime, S Carey for Mulligan 30, F Kelly, N Kearns for D Hughes halftime, D Wylie, A Woods for McCarthy 62
Not used: B McBennett, D Malone, R Farrelly, K McMenamin, F Kelly, D Wylie
Tyrone: NMorgan; M. McKernan (0-1), R. McNamee, P. Hampsey (captain) (0-1), N. Sludden (0-1), M. Bradley (0-2), P. Harte (0-1 ); B. Kennedy, C. Kilpatrick; K. McGeary, M. O'Neill, C. Meyler; D. McCurry (0-5), M. Donnelly (0-3), C. McKenna.
Subscriptions: D Canavan for Kilpatrick 54, N Kelly for O'Neill, C McShane (0-1) for Kennedy 46, R O'Neill for Bradley 65, C Quinn
Not used: D McAnenly, J Munroe, M Conroy, P Donaghy, B McDonnell, HP McGeary, C Quinn
Referee: D Gough (meat).